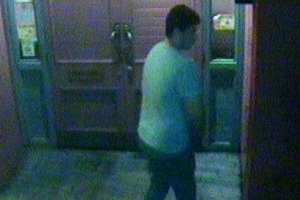 A central Wellington bar hopes a YouTube video of a man urinating on its front door will publicly shame him into cleaning up and apologising.
Trendy beer bar Hashigo Zake posted photos to its Twitter account yesterday after the act was caught on CCTV camera at 1.58am on Saturday.
The photos show the man and a woman approaching the underground bar's entrance, in an alley off Taranaki St, before the man apparently urinates in the doorway.
"Anyone recognise these fine people? We'd like a word about respecting our property. Or it's YouTube time," the bar said on Twitter.
When nobody came forward, the bar posted a link to a 28-second video on YouTube, saying it was "time for more gruesome detail".
"We did our best to warn him," the video said, highlighting a warning sign which threatens to upload videos of public urination.
"Anyone recognise this pillar of society? Because dozens of our staff and regular customers would love to pay him a wee visit."
The bar said it would take down the video - titled "Wellington's finest" - if and when the perpetrators "give our doorway a thorough clean".
Hashigo Zake owner Dominic Kelly said he did not want the video to get blown out of proportion but said similar videos had been successful in the past.
"All I want is for the people who did it to find out and be embarrassed and come forward," he said.
"We've done things like this before. We've used footage to expose things that had happened.
"We had some stolen goods returned from exposing people via YouTube. We had a staff member who had his skateboard stolen once, and that got tracked down because we showed photos of people taking it."
Hashigo Zake has a strong following of regular customers, and Mr Kelly hoped they might be able to help identify the perpetrators.
- APNZ