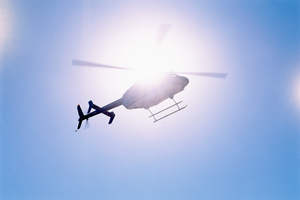 A helicopter emergency locator beacon was set off accidentally on Saturday, prompting a second warning from police in only two weeks.
West Coast police search and rescue co-ordinator Michael Tinnelly said today the beacon on board a helicopter was activated while the machine was having work done to it.
"Luckily we were able to make a phone call to the owner of the beacon and we found out that the helicopter was still on the ground and there was not an emergency."
Mr Tinnelly said that once the owner realised the beacon had been activated, he turned it off.
However, Mr Tinnelly stressed that "just turning off the beacon was not enough; if a beacon is set off accidentally the owner should also contact police and the Rescue Co-ordination Centre".
When a beacon is triggered, emergency services are alerted.
"To avoid triggering a full scale emergency call, that could result in costly fines, people need to make sure all the appropriate agencies are advised quickly."
Only two weeks ago, a Nelson man activated his emergency beacon because he was running late.
The experienced mountaineer was tramping in the backcountry of Paringa, in South Westland, when he decided to catch a ride with the Solid Energy Rescue helicopter after underestimating the time it was going to take to get back to his car.
Maritime New Zealand was angered by his antics, saying he had wasted about $10,000 of taxpayers' money.
The penalties for misuse of beacons vary from a formal warning, to an infringement notice penalty of $250. In extreme case people could face prosecution and be fined a maximum of $30,000.
Maritime New Zealand is expected to make a decision later this week on whether to prosecute the Nelson man.