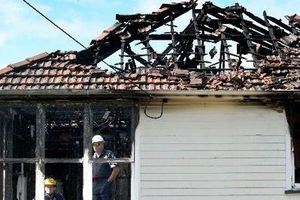 A woman was lucky to escape with her life from an exploding house in Wanganui East early on Saturday morning.
The woman, who fire officers and a next-door neighbour say was unhurt but seriously traumatised, was from Waipukurau.
Police and Fire Safety officers were investigating the 6 am blaze which witnesses said started with a blast and a "fireball" at the front of the house.
A neighbour, who didn't want to be named, said she had woken early and happened to look out the window.
"I saw fireballs exploding out of the windows next door. It was terrible ... I called 111."
Minutes later, when the Fire Service arrived, the shocked woman owner of the burning house was brought to her door by another neighbour.
"She was in a bad way. I couldn't believe she was even at the house because it was so early. She said she had come back early to finish painting cupboards in the kitchen, then she was going to Palmerston North to meet her husband.
She had been staying in a motel over here."
The fire burned so fiercely it caused smoke damage to an outside wall of her house, the neighbour said.
"And I've just finished painting it. Now I've got to get the water blaster on to it."
Wanganui Senior Station Officer Craig Gardiner said by the time the Fire Service got there the house was completely engulfed by the fire.
"It was very fast and very intense. The roof was exploding and tiles were flying and falling. It was a very dangerous situation."
It was incredible the woman, who had been painting in the kitchen at the back of the house made it out at all, he said.
"She would literally have been chased out by fire ... she was very, very fortunate and lucky to be alive."
The fire could be suspicious, but could also have been the result of paint vapours igniting.
The power had been disconnected, so it was definitely not an electrical fault, Mr Gardiner said.
Today insurance assessors, police and a fire safety officer will thoroughly inspect the house, he said.
"We all have our own theories, but it will be interesting to get the result of the investigation."
For more articles from this region, go to Wanganui Chronicle