Detectives believed early in their investigation that Asian woman was the victim of foul play.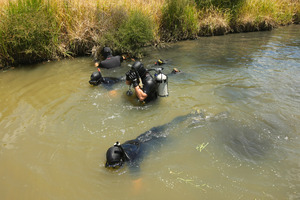 On Monday, November 5 Cissy Chen vanished, and 103 days later police are no closer to finding her.
But they say it is only a matter of time until her killer is arrested and the 44-year-old's body is returned to her family.
It is unusual for police to announce that a missing person case has been upgraded to homicide before a body has been found. But detectives working on Ms Chen's disappearance knew early in the investigation that she was the victim of foul play.
They believe she was killed and her body disposed of some time between leaving the North Shore accountancy firm where she worked and 9.35pm, when her partner Yun Liu, known as Jack, reported her missing.
She left work in her silver Toyota, drove home and parked at her Waiau St, Torbay, home. She was not seen again.
She usually went for a walk at about 5.30pm each night, shortly after getting home.
Detective Inspector Bruce Scott said that despite an extensive search including parks, building developments and waterways in the area, there was no sign of Ms Chen.
"That led us to believe that she hadn't been out walking. Nobody had seen her. It was a night that lots of people were out and about, but no one saw her that night," Mr Scott told the Herald.
"The reason we're saying that it's a homicide is because we don't believe she ever went for a walk. We believe something happened to her - whether at home or somewhere else. And that's the basis of our homicide investigation."
Ms Chen came to New Zealand from China to study 22 years ago and decided to stay permanently.
Mr Scott said places where she could have been had been searched and searched again.
He would not be drawn on possible suspects or a motive. But he confirmed there was no sign of forced entry at the house, no sign of a struggle and no forensic evidence to indicate how she was killed.
"We definitely have a theory of what happened to Cissy, but to protect the integrity of the investigation we can't go into what that is."
He hoped the killer's conscience would get the better of them and they would tell police what happened.
"If it has been an accident and they've panicked, they need to tell us about that. They need to do the right thing by Cissy and her family. They need to tell the police where her body is so that we can get her back to her family and they can grieve and get some closure in knowing what happened to her and where she is."
Police have spoken to everyone Ms Chen talked to at work that day, including people she had phone contact with. Mr Scott revealed that her last phone call was made from work at 4pm.
"I'm not going to comment on what it was or who it was to, but we have spoken to that person and the information forms part of the investigation," he said.
There are three detectives working on the case at present, and their duties include keeping regular contact with Mr Liu, and following up calls from members of the public.
"We will escalate the number of police on the operation when we find her body," said Mr Scott.
"We are desperately hopeful that she will turn up.
"We'd like to find her and return her to her family."