Mt Wellington purchase allows Brian Tamaki to develop his City of God site in Wiri.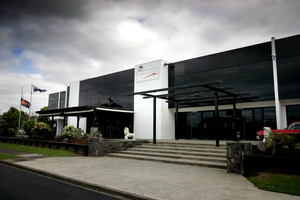 The Salvation Army has bought the Destiny Church complex in the Auckland suburb of Mt Wellington and has its 12-storey building in Queen St up for sale.
The sale allows Destiny, founded by Bishop Brian Tamaki, to develop its new City of God site at Druces Rd in Wiri, south Auckland.
The former Quik Stik International factory has been converted for a school, auditorium, gym, administration and Destiny's social service operations.
Salvation Army Northern Division commander Major Stephen Jarvis said it would take possession of Destiny's building on March 31.
But it would not move from Queen St until renovations were finished at the end of this year.
Church services in English and Korean would continue in the ground floor for this year under a lease arrangement with new owners.
The main reason for the army's move to the commercial area of Mt Wellington was that it gave more scope to serve the public.
It had more functional spaces and offered more opportunities to work in the community in ways that were not practical at Queen St, which it built in 1985 overlooking Myers Park.
"From this site we will provide food assistance, budget counselling, social work services and others social services," said Major Jarvis.
"We are currently referring people to our Royal Oak centre for the bulk of these services."
Major Jarvis said the Mt Wellington commercial area was more accessible for its clients than the CBD, because it was on a main transport corridor and had onsite and street parking.
Many of the army's clients had cited transport and parking as obstacles to them going to the 369 Queen St building.
Major Jarvis said it was for Destiny to say how much Mt Wellington sold for.
It had an Auckland Council rating value of $4.9 million.
Real estate agent Bayleys said the 4400sq m building had an air-conditioned acoustic auditorium, modern first floor office suite and administration area, cafe and resource consents for school buildings.