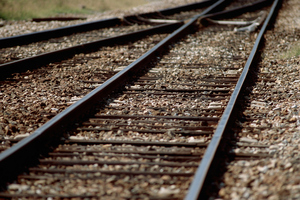 The rail crossing where a commuter train and a ute collided in the Wairarapa today, killing a woman, had no lights or barrier arms, KiwiRail says.
The ute's 17-year-old driver was taken to Wairarapa Hospital, but the woman passenger died at the scene.
The crossing, near Carterton, had a stop sign to warn vehicles, a KiwiRail spokeswoman said.
The police serious crash unit was investigating after the collision at the crossing on Wiltons Rd about 8.15am.
The KiwiRail spokeswoman said the train would have been travelling about 80km/h when the crash happened.
She said there were "a number of (uncontrolled) level crossings around the country''.
"Our criteria for assessing level crossings and whether or not they need more protection than a stop sign, we would take into account the amount of road and rail traffic travelling across those level crossings, the number of rail tracks to be crossed and if the view of the trains would be obstructed.''
She did not know if today's incident would prompt a review into the crossing's safety.
``KiwiRail urges people to be really cautious around rail lines and when they're crossing lines.''
Police said the driver of the south-bound commuter train was ``extremely shaken''.
The driver was not injured and is being supported by police, Victim Support and KiwiRail.
Police said there was "extensive damage to the vehicle from the impact of the train''.
About 40 passengers had to wait an hour and a half on the train before a bus was able to drive them to Wellington.
Police have appealed for information from anyone who may have seen or heard anything in the vicinity of the crash to contact them.
By the numbers:
* there are 1330 public road crossings around the country;
* 278 are protected by barrier arms and lights;
* 423 are protected by lights and bells;
* 629 have stop or give way signs; and
* about 51 per cent of crashes happen at crossings not protected by bells and/or barriers.
- APNZ