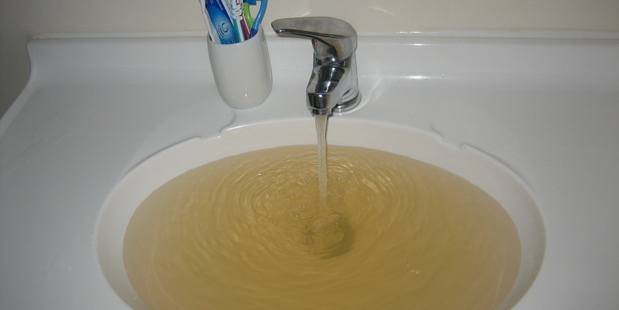 Saturday morning, Lynfield, Auckland. My sons Alex, 5, and Nick, 2, have just finished their Weet-bix and gulped down glasses of water. I've had coffee, brushed my teeth, and am rinsing a white plate under the kitchen tap but it's not coming clean. The water looks like chicken soup, again.
This is probably the fifth time it's happened in five years of living in this house. The first was when Alex was months old and I filled his baby bath with brackish water. I've lived most of my life in Auckland and never experienced anything like it.
But now I know the drill. I ring Watercare and report the problem. The woman on the phone confirms no faults or works have disturbed the pipes. "Go outside and runa tap, if it's still dirty after 10 minutes call us back."
I mumble that we should have a refund for doing that, but I don't get much of a response, or empathy. So I trudge outside in my dressing gown and blast water from the tap. Brown, brown, brown and 10 minutes later, still brown.
I phone her back grumpily, thinking of my boys consuming this stuff. Logic tells me it's only rust, but who knows?
Somebody will be out soon to sort it out, she says.
He arrives in 30 minutes and hands over four big bottles of crystal clear water - much like what water in a developed country should look like. "Nope, you wouldn't really want to drink that," he says of the murky stuff that's soon gushing from a hydrant and disappearing down the stormwater drain.
It clears after half an hour, but he runs it for an hour to be sure.
I send a sample to a laboratory for analysis. I'm not a lab technician, the jar isn't sterile. The exercise is a waste of time as far as Watercare is concerned, but I want to know what's in the water. The guideline for iron content is 0.2 parts per million; today mine contains 3.43. Manganese has a desirable level of 0.04ppm, and the highest acceptable level is 0.4ppm - but my place contains 0.11 on this day .
The guideline for turbidity, or cloudiness, is 2.5; my water is 10.30 units. Auckland medical officer of health Simon Baker tells me not to worry - the water is perfectly safe to drink.
With my reporter's hat on, I phone Watercare again. They say my test wasn't reliable and tests in our area takena day either side were perfectly normal.
But, it turns out, I'm not the only one inmyroad to complain. Watercare has decided to replace our pipes next month.
I'll drink a tall glass of crystal clear water to that.