Marriage a slam-dunk for millionaire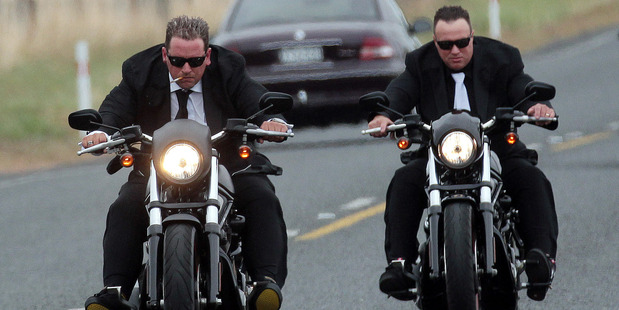 Lotto winner Trevor Cooper has the car, the boat, the house - and now the wife and family. Just 10 months after scooping $26 million in Lotto, Trevor has struck gold with Waihi dairy farmer and mum-of-two Sharie Marshall.
Trevor, 35, and Sharie, 40, tied the knot on Friday afternoon in an intimate ceremony on the lawn of Trevor's sprawling $2 million pad in Karaka, South Auckland.
Comedian Ewen Gilmour, a registered celebrant, married the pair in front of about 100 family and friends.
Car-mad Trevor ditched his usual ride and chose a new Harley Davidson to lead a convoy of cars to meet his bride, who had stayed at the estate overnight.
Sharie wore a full white silk gown with a ruched back and medium train as she made her way down a white aisle to meet the black-suited groom.
No expense was spared on security. The event was guarded heavily by men in black dotted around the perimeter, along the roadside and at the gates leading to the house.
At least one camo-clad paparazzo, though, could be seen hiding in the shrubbery on the boundary.
Cooper cut no corners to put on a good party. As well as rows of tents for overnight guests and two large open-sided marquees, there was a bouncy castle for the kids.
Guests were treated to a sit-down dinner before moving to another marquee for drinks and a live band.
Sharie's two sons - Regan, 3, and Aiden, 19 - wore black suits and skate shoes and had a part in the wedding party.
The marriage comes after a whirlwind six-month romance. In July, Trevor told the Herald on Sunday he had a "special someone" in his life but at that stage they were not together.
"I'm single but there is a person in my life," Trevor said. "We are seeing how things go there before we take things too seriously or make a serious commitment.
"I have known this person for a long time and opportunities have now arisen where we have been able to get to know each other a bit better."
Then, in December, Trevor confirmed he was engaged but said he did not want to reveal his fiancee's name.
"I haven't even told my parents who it is," he said at the time.
Sharie was engaged in 2010 but the Herald on Sunday understands the relationship broke up last year.
During their courtship, Trevor and Sharie enjoyed a trip to the United States with Sharie's young son and have been spotted shopping for farming equipment.
Since his big win, Trevor has bought million-dollar properties for himself, his parents and his sister.
He has also bought numerous cars, including a Dodge Dually, a Holden Maloo, a Holden GTS and a 9m Searay speedboat, which his nephew has named Dirty Harry.
Trevor went from working as a check-out operator in Huntly to driving expensive race cars alongside his off-road heroes at prestigious American events.
"You could say I am living my childhood dream," he said.