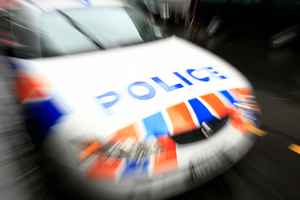 Four people involved in a three-car crash near Whatawhata overnight came close to losing their lives, police say.
Waikato Police are sending a warning about road safety after three cars collided on SH23 near Whatawhata just before 10pm yesterday, leaving four people in hospital.
It is believed two cars travelling west towards Raglan collided with a car heading east towards Hamilton.
Waikato Road Policing Manager, Inspector Marcus Lynam, said weather conditions were good at the time of the crash, which is being investigated by the Waikato Serious Crash Unit.
"It appears the eastbound Nissan Bluebird crossed the centreline and collided head on with a Suzuki Swift car, the driver of a Hyundai Sonata who had been travelling to Raglan with the driver of the Suzuki managed to break and avoid all but a minor impact with the rear of the Swift."
It was not yet known whether alcohol had played a part in the accident and police are awaiting the results of toxicology tests, Lynam said.
The woman driving the Suzuki Swift received serious injuries and was taken to Waikato Hospital where she is in critical condition.
The woman driving the Nissan suffered serious leg injuries and two other people were treated for minor to moderate injuries.
While the Waikato road toll was at two deaths, compared with seven deaths at the same time last year, death and serious injury was an avoidable tragedy, he said.
"We are urging drivers to be mindful of the fatal five: that is speed, alcohol, keeping left, seatbelts and reckless or dangerous driving, if everyone takes care to avoid involvement with each of these factors we will all be driving to survive and ensuring safer journeys for all road users."
- nzherald.co.nz