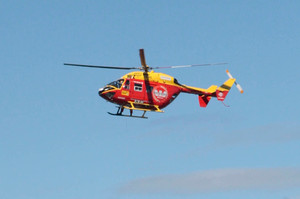 A bulldozer driver has had a lucky escape after he rolled 200m down a hill in the Wairarapa and had to be rescued by a Life Flight team.
Life Flight had to send a Wellington Free Ambulance paramedic on-board the Westpac Rescue Helicopter to the accident, on a farm north west of Castle Point.
"On our arrival we found a man being looked after by his co-workers after his bulldozer rolled approximately 200m down a hill, landing upright" said flight crewman Dave Greenberg.
"Luckily the guy did not get thrown out of the bulldozer cab on the way down."
The Wairarapa man, believed to be in his 50s, was transported to Wellington Hospital with multiple injuries, none of which were life-threatening.
He is still in hospital, where he is being treated and assessed.
- nzherald.co.nz