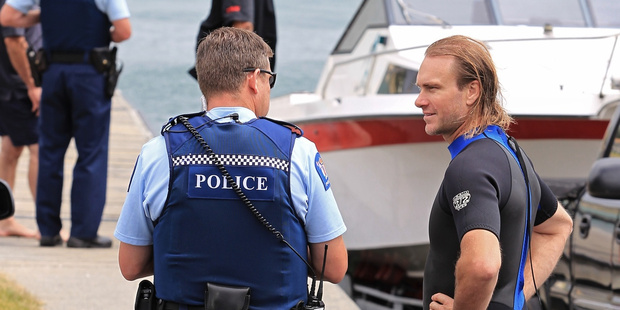 A man who tied himself to a buoy after his kayak rolled in the harbour was lucky a walker on shore heard his cries for help.
The 47-year-old kayaker, who was out fishing in Tauranga Harbour, sparked a rescue yesterday after he began to take on water. After struggling to swim to shore, the man tied himself to a marker buoy and began yelling for help.
Jeff Dent, who was in Tauranga visiting his mother-in-law from Guatemala, was walking around Fergusson Park in Matua when he heard the faint cries for help.
"I went home and got my surfboard and when I got back the police were here. I asked them if I should go out, they said, 'Yes, just don't hurt yourself'. When I got there, the man was a bit hypothermic and he was holding on to his kayak full of water."
Mr Dent said the man told him he had been fishing when he rolled his kayak.
"He tried to swim to shore to Fergusson Park but the tide was ripping up. He was in the water for about 45 minutes. The tide pulled him in and he roped himself around a marker buoy and held on to that for about half an hour."
Mr Dent pulled the kayaker on to his surfboard and bailed water out of the kayak until it was able to float. He was getting ready to paddle the man to shore when a boat turned up. "We were in the water sorting ourselves out when a couple of boaties who were called by the Coastguard turned up and pulled us in. The man was damn lucky, we could only just hear him from the shore. I had to cup my hand over my ear to make him out."
Acting Sergeant Andrew Crockett said when the kayaker was brought to shore at Sulphur Point, he was very cold and was taken to hospital by ambulance for a check-up.
The man told police he got into difficulty about 11.30am and had been in the water until he was rescued before 1pm.
Mr Crockett was unsure if the kayaker had been wearing a lifejacket.
A Tauranga Hospital spokeswoman said the kayaker was still being monitored in the emergency department yesterday afternoon. He was in a stable condition.
For more articles from this region, go to Bay of Plenty Times