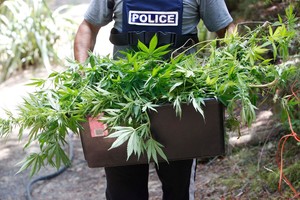 From kitchen cupboards and ceiling cavities to large commercial crops hidden under native bush canopy, police are destroying illegal cannabis grown in Northland as part of their annual drug blitz.
Just days into the operation, code-named Ruth, a team of Northland police have destroyed thousands of cannabis plants being grown in various urban and rural locations.
A fixed-wing aircraft and a helicopter equipped with a spray unit have been scouring the countryside, spotting and destroying plants.
On the ground, search teams have ripped out cannabis plants, seized illegal firearms and recovered stolen property.
Last year, nearly a third of the cannabis plants seized and destroyed by police in six-month-long, nationwide operations targeting drug growers and dealers was grown in Northland.
A total of 40,993 plants were destroyed and 184 people arrested in the region.
It seems this season will be no different, with people keen to dob in dealers via an anonymous phoneline - 0800Crimestoppers.
The head of the operation, Detective Sergeant John Miller, said police had been receiving information on the phoneline, which was run by an independent organisation and enabled people to leave anonymous information.
"It seems more and more people are sick of this drug and the problems it causes in our communities and are prepared to let us know about it. We've had some great information left on the phoneline this season."
Mr Miller said cannabis continued to be a major issue and caused widespread harm through health issues caused by addiction and related crime such as thefts and burglary.
One of the biggest crops found in the operation was in the Far North, where about 1100 plants had been thriving outdoors. The largest plants found outdoors had reached two and a half metres in height. About 8600 plants had been destroyed so far.
Mr Miller said smaller but more intensive operations indoors were also being discovered.
During searches this week, police found clones growing in kitchen cupboards under lights while another home had a growing operation set up in the ceiling.
In the Far North, police searching for stolen property from an avocado orchard recovered a digger and clubcart four-wheel drive in the midst of 80 cannabis plants.
Houhora Senior Constable Tracee Knowler said on her Facebook page it was a "reasonably good result" but she still wanted to find two Honda quadbikes, a tandem trailer and a blue ute.
If you have information about illegal drug operations, contact 0800Crimestoppers or 0800 555 111.
For more articles from this region, go to Northern Advocate