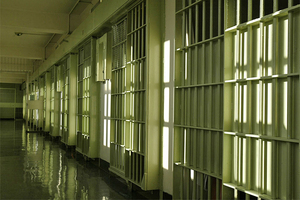 A Rimutaka Prison guard was justifiably dismissed for assaulting an inmate, the Employment Relations Authority has determined.
Willie Alatipi denied the assault on the unnamed man on July 2, 2011.
According to the authority's decision, released today, the prisoner asked Mr Alatipi if he could make a phone call despite being previously told that he was not allowed to make calls that morning.
The request was denied and an argument broke.
Mr Alatipi told the man to return to his cell, at which point the prisoner claimed he was assaulted.
Later that morning, the prisoner told a nurse and another guard that he had been assaulted, and the principal corrections officer was informed.
Mr Alatipi said the prisoner had taken the decision to refuse him a phone call badly and at one point racially abused him, prompting Mr Alatipi to lock him in his cell.
However, the authority noted that the prisoner's account of being assaulted had been consistent, and photographs taken after the incident showed clear bruising to his right cheek.
Mr Alatipi was dismissed after a Department of Corrections investigation was carried out.
The authority determined that the investigation was fair and the dismissal justified.
Police did not lay charges after conducting their own investigation.
Corrections general manager human resources Vince Arbuckle said the department was pleased with the outcome.
"We set high standards for our staff and while the vast majority of our 8000 staff do their job extremely well, allegations of staff misconduct are taken seriously. High standard of behaviour with offenders is an area where the department places particular emphasis, and we will not tolerate any actions that fall short of these standards.''
Corrections recently implemented a number of measures to "strengthen integrity'' among staff, given the need for them to uphold the law and act as role models for inmates, Mr Arbuckle said.
Mr Alatipi could not be reached for comment.
- APNZ