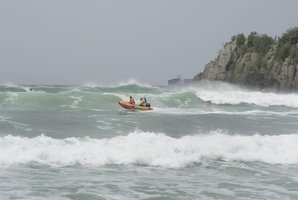 Beachgoers who have survived being caught in a deadly rip are being sought for a new survey that aims to save more lives on New Zealand beaches.
Rip currents claim around half of the 22 lives lost each year on the coastline.
They're also a key factor more than 52 per cent of all rescues performed by surf lifeguards, amounting to an average of 800 lives each year.
Now, Surf Life Saving New Zealand has developed an online survey about rip currents that aims to improve rip education and awareness.
The New Zealand Rip Current Experience Survey, in collaboration with the University of New South Wales and Surf Life Saving Australia, comes after an extensive campaign in Australia which queried the general public on their knowledge and experiences of rip currents.
Participants were asked to identify rip currents in beach photographs, detail how they would escape a rip and recount any rip current messages they may have heard.
Surf Life Saving New Zealand Aquatic Risk Manager Nick Mulcahy said the idea of the survey was to gauge what the general public knew about rips, understand how they would respond if caught in one and assess how successful previous rip awareness campaigns have been.
"The real value is in getting people to access the survey online and then using their responses to help shape rip campaigns in the future,'' he said.
Mr Mulcahy says educating the public about rip currents is vital to ensure that beachgoers can properly identify rip currents and know what to do when caught in one.
"Education is a top priority for Surf Life Saving in our continuous effort to reduce the number of rip related drownings.
"Every summer we see thousands of beachgoers getting into trouble because they can't properly identify a rip current. We want to make sure everyone knows what a rip is so they can avoid them in the first place.''
To take part in the survey visit https://www.research.net/s/NZripcurrentsurvey.
- APNZ