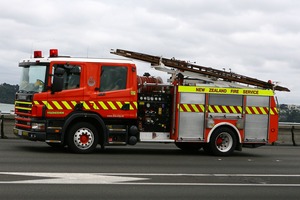 A Far North fire boss has had a gutsful of "stupid people" ignoring a total fire ban and putting lives and property at risk, with 37 fire callouts in the district so far this year, including two yesterday.
Firefighters were late yesterday battling to control a suspicious blaze that burnt more than 30 hectares of scrub and bush at Horeke, on the southern Hokianga Harbour.
Kaitaia chief fire officer Colin Kitchen said the fire started beside Horeke Rd in an area behind the old rubbish dump just after 1pm, with the flames quickly spreading over a 300 metre-long front and stretching already exhausted Far North firefighting resources.
Mr Kitchen said the fire was being treated as suspicious and three helicopters, supported by ground crews from throughout the Far North - five fire service units and three from the rural fire authority - were working in extreme conditions to stop the flames from spreading further.
Mr Kitchen said that despite a total fire ban being introduced in the Far North, and fire restrictions in place across the whole of Northland because of extremely low rainfall - some people were ignoring the ban.
He said so far this year the Kaitaia Brigade has been called out 37 times, compared to 28 at the same stage of 2012.
Many of the fires were caused by people flouting the well-publicised fire ban.
"I'm incensed that some people aren't heeding the messages. We are getting some stupid people just not listening and lighting fires while we've got this ban in place," Mr Kitchen said.
"The message is very clear, but some people seem to think it's their right to burn rubbish and they don't understand the consequences. It's putting real pressure on the volunteers - and it's hard enough getting volunteers as it is.
"It's also putting pressure on the employers of the volunteers and their families. Some of them are spending so much time away a from work or the family just to fight fires that could have been avoided."
He said with Northland tinder dry, fires posed serious risk to lives and property.
The costs of fighting fires can also be huge, with a blaze on the Pouto Peninsula last month costing more than $80,000 in one day on helicopters alone.
The Northern Rural Fire Authority, which implemented the ban, said it would seek to recover firefighting costs from people who light fires, and bills totalling tens of thousands of dollars had already been sent out to 10 people in recent weeks.
About an hour after the callout to Horeke yesterday, a fire started in a house in Umawera, south of Kaitaia, which forced brigades in other centres such as Kerikeri and Kawakawa to be put on standby.
For more articles from this region, go to Northern Advocate