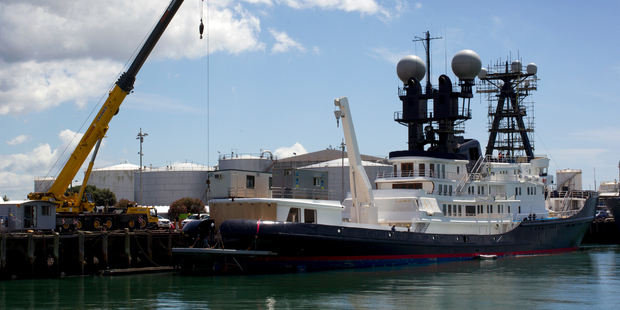 Australian billionaire James Packer has brought his 87.5-metre superyacht Arctic P to Auckland for a refit that could mean upwards of $10 million for the local economy.
The giant vessel - the 50th largest yacht in the world - is berthed at Wynyard Quarter where it is expected to stay for at least six months.
The arrival of Packer's yacht is a blessing for the Auckland marine industry after losing the $50 million refit of billionaire Graeme Hart's superyacht to Whangarei.
The Packer vessel, which has hosted celebrities such as Tom Cruise and Nicole Kidman in the past, has been hanging about Auckland ports since October.
Industry insiders confirmed this week it had been moved to Wynyard Quarter for a refit, its first since 2008.
Packer this week opened up in an emotional television interview about the last words from his father, Australian media mogul Kerry Packer, from who he inherited the yacht upon his death in 2005.
Details of the work to the vessel have been kept confidential but research on superyacht refits suggests Arctic P will result in a multimillion-dollar benefit for Auckland.
It is likely to be a smaller project than the refit of the 77-metre yacht Weta - known as U77 - owned by Hart, New Zealand's richest man.
Weta was towed to Port Nikau in Northland last week after local firm Culham Engineering was believed to have offered a better deal for what is reportedly the largest yacht refit the country has seen.
Hart's superyacht had been in Auckland for more than a year and those in the marine industry are keeping mum on the reasons behind his decision to have it finished in Whangarei, where the port has been dredged to accommodate the large vessel.
Whangarei councillor Brian McLachlan, who praised Culham Engineering for luring the Weta refit, said he understood Hart's decision to be based on where he could get the most cost-effective work.
Drury-based Nautical Contracting had been working on the Weta while it was in Auckland and last reported in February last year that its work was continuing.
The company's website said "2011 was a tough year in the global superyacht industry and for the boatbuilding scene in New Zealand. But we are pleased to say there are encouraging signs for the year ahead".
Nautical Contracting managers would not comment on the Weta's move north this week.
Refurbishing superyachts was a lucrative industry for Auckland, NZ Marine Industry Association executive director Peter Busfield said.
Research by NZ Marine has found a typical refit for a 40m yacht resulted in $5m spent in the industry and another $1m spent on tourism in the city hosting the owners, representatives, guests and crew.
Auckland has about a 90 per cent share of the superyacht refit business in New Zealand, and the cost of a refit can vary from $1m up to $30m.
Mr Busfield said there were efforts to double the number of superyacht refits being done in New Zealand over the next three years.
"Only cities that have a highly skilled marine industry workforce and special marine facilities such as we have in Auckland can hope to attract this international business," Mr Busfield said.
"Of the 7000 superyachts internationally we believe that 1000 of these are wishing for, or are due for, a refit.
"New Zealand attracts approximately 25 refits per year and with [New Zealand Trade and Enterprise] assistance we have a strategy ... to entice more than double this number over the next three years."
Mr Busfield said superyachts were normally attracted to New Zealand as a cruising destination and then later becoming aware of the world-class workmanship the local marine industry provides.
Who is James Packer?
Wealth: US$6 billion ($7.17b)
Age: 45
Source of wealth: Gaming
Lives: Sydney, Australia
Marital Status: Married with three children
The son of the late media mogul Kerry Packer, James inherited the business and shifted investments to focus on the gambling industry, in particular casinos worldwide. Last year his fortune grew by US$1.5b ($1.79b) as he sold off his last major stake in media and his casino group, Crown, expanded.
Source: Forbes.com
The Arctic P
Size: The 50th largest yacht in the world, measuring 87.58m
Design: Custom built in 1969 by Schichau Unterwesser in Bremerhaven, Germany
Last refitted: 2008
Performance: A cruising speed of 20 knots, max speed of 22 knots, carries 1.4 million-litre fuel tanks
Accommodation: Up to 12 guests and up to 25 crew in "a relaxed luxury yacht experience"
Celebrity guests: Tom Cruise has stayed onboard several times, including with Katie Holmes when they were married and with Nicole Kidman during their marriage
Source: Superyachts.com
- APNZ