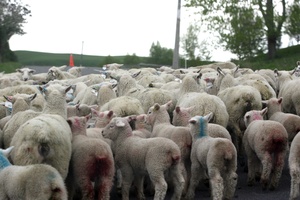 A world shearing record bid by Te Kuiti gun Stacey Te Huia is officially over, although he's carrying on in search of a personal goal of shearing 700 in nine hours for the first time.
In a packed and hot Te Hape woolshed just east of Benneydale today, judges convenor Eddie Archer called time just after 2.45pm, at the end of the fourth run, with a tally of 566 ewes shorn but 156 still needed in the last hour and 45 minutes to break the record of 721 set by southern Hawkes Bay shearer Rodney Sutton six years ago.
Needing an average of an unprecedented 147 in each of the two afternoon runs, Te Huia dropped further off the pace, and by afternoon smoko when the judges retired he had run-tallies of 149 for the first run of two hours, and 141, 140 and 136 for the next three of one hour 45 minutes each.
It compared with Sutton's tallies of 158, 140, 142 and 140, before shearing a final run of 141 when he set the record at Mangapehi, also in the King Country, on January 31, 2007.
Te Huia, whose best previous nine-hour tally was 674 in a two-stand record a year ago, spoke briefly and emotionally to thank the judges, a team of more than 30 helpers, and the sponsors and the crowd, and after a short break resumed at 3.13pm, shearing through to 5pm without the judges but with the shed still full of supporters.
Only four others have shorn more than 700 ewes in nine-hour record attempts, the first in 1994 by King Country legend David Fagan, who was among those guiding today's record attempt.
- APNZ