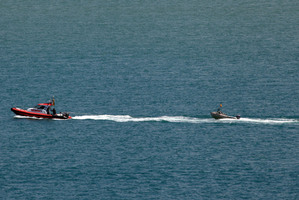 A father and son stranded in their broken-down boat off the Northland coast watched helplessly as searchers came agonisingly close but still too far away to spot them.
It wasn't until their very last pass that rescuers spotted Mike Ward, 72, and his son John, 23, almost 24 hours after their boat's engine failed.
The pair were were found by rescuers yesterday afternoon about 3km off the coast.
In a letter to a local newspaper, Mr Ward recounted the experience.
"We had gone out on a Sunday afternoon to troll for skippies and bonito between Bergens Point and Stevenson Island. It was a calm day - just a quick fish. We were in shorts and tee shirts even leaving our water bottles and cell phones behind."
As it was getting dark, the engine refused to start and they were forced to spend the night bobbing in the ocean.
Mr Ward said he had recently watched the film Life of Pi, in which a boy is stranded on a boat in the Pacific Ocean with a bengal tiger called Richard Parker.
"John stayed in the aft and I in the fore, and as his exasperation with his careless dad took hold, I started to call him 'Richard Parker'," Mr Ward said.
Even though the night was relatively mild, the men were shivering and "Richard Parker" became concerned about hypothermia and dehydration.
"I assured him that we would be fine to which he accused me of being too calm in every crisis. I reminded him that my guardian angel always saved me."
While they drifted, Mr Ward's wife Nuu contacted a neighbour who notified emergency services.
The men had seen a search boat heading towards them during the night but it turned before it reached them and started searching the coast.
They later saw a plane and helicopter flying along the coast and then about 10km off shore, while the men drifted in the middle of the two search paths.
"We were concerned that by not seeing us, they would report the area cleared and the search would be diverted away from us. As the day went on, we saw boats passing, but none saw us. We were stuck between the search grids."
As afternoon arrived on the second day, the men feared they would be out for another night, but as Mr Ward looked up he saw a Coast Guard boat speeding directly towards them.
"I awakened John and he could not believed his eyes. I laughed and reminded him of my guardian angel."
The rescuers welcomed the men on board and gave them drinks and treats.
"It turns out that they are all volunteers and they had spent the whole night looking for us, even checking my dive spots.
"They said that their HQ in Auckland had studied the grid lines and that he told them to make a final pass down the middle. The captain Adriaan Bosch said that if they had not found us on that pass, they were going back to port."
Mr Ward finished his letter with a warning to other fishermen.
"Don't ever let the calm water lull you into thinking that you can just go out for a 'quick fish' always take water bottles, life jackets, a torch, flairs [sic], your cell phone, warm clothes, food and leave a route plan."
- APNZ