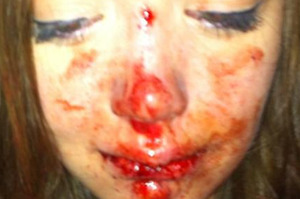 Police say it is too early to speculate over an accusation by an Auckland teenager that she was assaulted by police after they closed down an out of control party in Howick at the weekend.
Investigations were launched after pictures of a bloodied Ella Ekatone, 15, were posted on Facebook by friends who attended an 18th birthday party in Howick on Saturday.
The party reportedly got out of control, with people passed out in the streets and police pelted with dozens of bottles when they arrived.
Around 30 police officers dispersed about 150 party-goers and were responding to a 111 call from the property where the party was being held.
Today at a press conference, Inspector Jacqueline Whittaker said it was an extremely unfortunate situation for everyone and the investigation was "an absolute priority''.
She explained that police were called to an out of control party and when they arrived bottles were thrown at officers.
Ms Whittaker said that made the situation "very difficult and unsafe''.
Thirty police officers attended the party and it was yet to be established who was involved in the alleged incident with the teenager.
No police staff had been stood down and investigators were yet to speak to all staff who attended.
Ms Whittaker said footage taken on the night would be viewed as part of the investigation.
"The facts haven't been established yet. There is a lot of speculation.''
"There are a large number of people being interviewed, including police staff and party-goers.''
The complaint is being investigated by the Independent Police Conduct Authority.
Today Ella told told RadioLive she decided to speak to the media because the officer hurt her and "I don't want him to get away with this''.
"If this is happening on a regular basis it can't just go unnoticed because he's a policeman. People need to realise that this is happening a lot more than they think. I knew many people at the party who got hurt that night.''
The party was to celebrate a friend's 18th birthday and it was only when police arrived that things spiralled out of control, not before, she told RadioLive.
A wall of police officers came towards her and one on the end told her to get out of the way and pushed her unnecessarily, she said.
"I was scared. I was terrified and before he pushed me I was already making my way out of the property because I was going home `cos it had gotten way too out of hand and I was scared and I was leaving with my friends.''
When he pushed her a second time she slammed into the concrete and lost her two front teeth, she said.