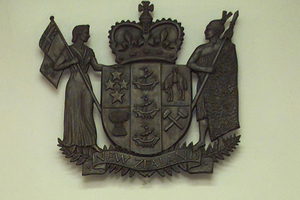 It was Cecilia Uhrle's birthday and she had been drinking for seven hours before she drove three men to the scene of a fatal stabbing, a court has been told.
Uhrle, together with her partner Faamanu Ian Fesuluai, her niece's partner Esau Vailagilala and her daughter's partner Unalotu Kipulotu Tongia are on trial for the murder of John Li'a at the High Court at Auckland.
Crown prosecutor Evan McCaughan said Uhrle's birthday party at her house on Revel Ave in Mt Roskill turned ugly at around midnight on October 14, 2011.
He said everyone had been drinking when an argument blew up and Mr Li'a smashed the window in Uhrl's front door before smashing the back window of her car.
He and his sister Millie left the party but Uhrle chased the pair in her car.
She found them just around the corner. Uhrle got out of her car and began fighting with Mr Li'a.
"She ended up getting the better of him in the fight and pushed Mr Li'a down on to the ground," Mr McCaughan said.
Uhrle was then alleged to have told Millie she was next.
Uhrle got back in her car and left before Mr Li'a and Millie continued on their way.
But Uhrle came back, this time with Fesuluai, Vailagilala, and Tongia.
Mr McCaughan said the three men attacked Mr Li'a and began beating him up while Uhrle watched.
Neighbours came out to see what the noise was about and one of them pleaded with the men to stop.
Uhrle responded: "He smashed my window ... That's what happens when you mess with my family."
Another witness warned the men that they were going to kill Mr Li'a if they didn't stop.
"They were picking him up by the hair and smashing his head on the ground," Mr McCaughan said.
"They were jumping on his face and throwing him around like a ragdoll."
The men stopped only when a neighbour threatened to attack the men with a machete.
Mr McCaughan said Millie ran off and Uhrle chased her around the corner. Millie ran behind a house and called police while Uhrle shouted at her from the street.
Police arrived to a short time later to find Mr Li'a unconscious. He never woke up.
Mr McCaughan said Mr Li'a had eight different wounds to his head, face, collarbone, and to his right side. The stab wounds appeared to have come from different weapons.
Police dogs tracked the men back to Uhrle's home around the corner where they found bloodied clothing and evidence of blood in the kitchen and bathroom.
He said the three men and Uhrle were all guilty of murder even if they were not the ones who fatally stabbed Mr Li'a because they were a party to it.
However, Uhrle's lawyer Greg Bradford told the jurors that his client maintained she had nothing to do with Mr Li'a's death.
He said "not one iota"of Mr Li'a's blood was found on Uhrle's clothing.
Mr Bradford said evidence would show Uhrlee had left the scene by the time Mr Li'a received the fatal blows.
Tongia's lawyer Robin Brown said there would be evidence called that showed his client was pulled away from the fight.
Vailagilala's lawyer John Edgar said: "To put it most simply, he did not murder John Li'a".
He said Vailagilala did not know about the knives and did not even know Mr Li'a had died until police told him. He said if there had been a plan to murder Mr Li'a, then it had been hatched by others.
The trial, before the jury of eight women and four men, is set down for four weeks and will hear evidence from 63 Crown witnesses.
- APNZ