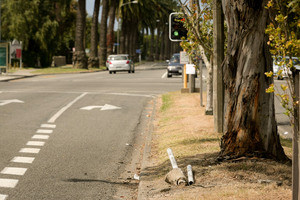 Two men were taken to hospital after the car they were travelling in smashed head-on into a tree in Napier.
Residents on Kennedy Rd described hearing the car hurtling down the street about 3.30am on Saturday, before a loud smash as it hit a tree separating the two sides of the road.
Resident Jackie Walker said she was first woken by the sound of the car accelerating down the street.
"I heard revving and then the impact of it hitting the tree," she said.
"It woke up my whole household."
When she went outside to see what had happened, the front of the car was wrapped around the tree and a post jammed between the wheel guard and front left wheel. There were two men in the vehicle.
A group of people, thought to be friends of the victims, later arrived at the scene and were yelling at police, she said.
Resident Harlee Walker was one of the first on the scene.
He said the driver was struggling to get to his feet while the passenger lay on the ground with blood covering his face.
"One person just fell out of the passenger side and the other was coming around, trying to collect his bro off the ground.
"He couldn't move - he could lift up his arm and that was about it."
Mr Walker helped direct traffic until emergency services arrived.
St John acting district operations manager John Plastow confirmed two men had been taken to Hawke's Bay Hospital with injuries not considered life-threatening. A hospital spokeswoman said they were discharged later that day.
For more articles from this region, go to Hawkes Bay Today