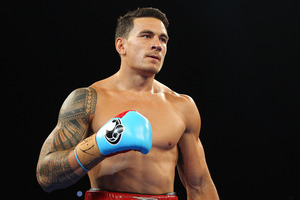 Sky television received dozens of complaints from viewers demanding refunds, angry that the fight finished two rounds earlier than expected.
Fans paid a fee of $39.95 to watch Friday night's bout in Brisbane between Sonny Bill Williams and Francois Botha.
Sky's New Zealand spokeswoman Kirsty Way admitted many viewers were unhappy about the way the contest ended and some felt short-changed.
"We have had a few discussions with customers but we were the broadcaster for the event and not organising it or promoting it," Way said.
"The way the whole night pans out is out of our control and what we did do was broadcast the event in its entirety.
"We delivered to our customers the whole event so there are no issues there. People were a bit surprised about the 10 rounds but it was out of our hands."
She continued: "It is a bit like when you get a big title fight and sometimes someone gets knocked out in the first 30 seconds.
It seems disappointing and that you are not getting value for money."
Way said Sky would only consider issuing refunds in situations where the broadcast had gone wrong and customers had missed out.
"There were no problems with the broadcast and the whole event was given to Sky customers," she explained. "We appreciate where some of them are coming from and they were expecting 12 rounds but I think the value for money was still there.
"It was a seven-card fight and it was a long event.
"It was advertised as a WBA title fight and they are normally 12 rounds, so we had no reason to think it would be 10 rounds. However, we will be reviewing the whole event."
Way added although Sky was pleased with the number of people who tuned in, no viewing figures were yet available as these could only be released at the promoter's discretion.