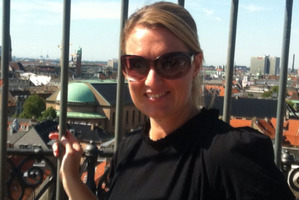 Friends and colleagues have paid respects to Kiwi journalist Rebecca Davidson, who was killed in a boat collision in the Seychelles this weekend.
The 35-year-old died just after earning a promotion. Dubai-based Davidson was working for the Arabian Radio Network (ARN), and was on a trip hosted by the Seychelles Ministry of Tourism.
The Republic of Seychelles, known for its pristine beaches and coral reefs, is about 1700km off Africa's east coast.
The boat collision happened at 9.30pm on Friday between the islands of Mahe and Sainte Anne. A boat carrying Davidson and four others collided with a vessel moving to Mahe. Seychelles authorities pledged to investigate the accident.
ARN chief executive Steve Smith was devastated by news of the tragedy: "She was wonderful. Her career and personal life were just blossoming."
Just last week, Davidson was promoted to co-hosting a drive-time slot on radio station Dubai Eye 103.8.
While a student journalist, Davidson reported on the Apec meeting for the NZ Herald in 1999. TVNZ director of coverage Claire Watson was the budding journalist's boss in Auckland from 1998 to 2004.
"She was hard-working and talented, but most of all she was just very, very funny and that will be my enduring memory," Watson said yesterday.
Davidson brought happiness to her co-workers during tough morning shifts. "Everyone who worked on Breakfast had to be hard-working because we worked hideous hours, and that's why it was so lovely to have someone like her around, spreading the joy and keeping us entertained," said Watson.
By 2005 Davidson was in England working for Top Gear in a marketing role. She later became an assistant producer on a British magazine show before jetting to the Middle East. She travelled widely and met sports stars such as rugby players Justin Marshall and Joost van der Westhuizen.
The Ministry of Foreign Affairs and Trade gave consular assistance to Davidson's family last night.