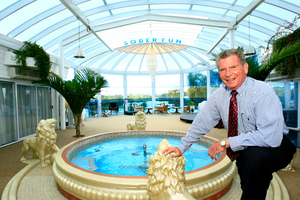 Capri clinic in Auckland runs the country's only one-month intensive rehab programme, according to drug and alcohol counsellor Roger Brooking.
"Capri is the most expensive programme in the country and one month costs $22,000, which includes follow-up for 12 months," he says.
Capri, run by director Tom Claunch, offers a residential programme for three to five weeks. Its website says "each consumer is given an individual treatment plan, individual counselling and case manager to coach them in recovery activities".
"Residential programmes are for people who are not binge drinkers but are alcohol dependent. I'm not sure Zac Guildford is alcohol dependent but in order for him to be accepted back on to the team he may have to do more than what is legitimate. It may be that he has to be seen to be dealing with it in an overt way in order to keep the authorities happy," Brooking says.
"If he is a weekend binge drinker and gets carried away he may be an alcohol abuser and whoever sent him to a residential programme doesn't know what they are doing.
"If he is in Capri they will tell him he needs to stop drinking completely, which is a tough message for a young man who is in a rugby environment where drinking is rampant.
"But if he is a binge drinker who has blackouts and can't remember what he is doing it is a serious problem, and if he can't stop at having one or two drinks then maybe abstinence is the answer. And he may be willing to do that if it gets him back into rugby. All power to him."