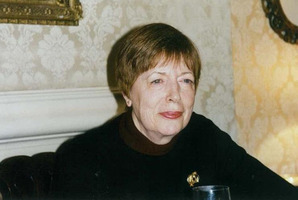 Jeny Curnow was widely known as the wife of the celebrated poet Allen Curnow but she was a remarkable and gifted person in her own right.
Above all she was a distinguished scholar of Maori, having embarked on the study of Maori at the age of 44 after a career as a schoolteacher.
She was responsible for giving proper recognition to the great Maori scholar and historian Wiremu Maihi Te Rangikaheke, the invaluable informant of George Grey in his studies of Maori tradition and legend.
She translated much of Te Rangikaheke's work, published several learned articles about his life and achievements, and wrote his biography in the Dictionary of New Zealand Biography.
She also published an inventory of manuscripts about Maori life and culture for the Auckland Museum and a bibliography on the history and traditions of Tai Tokerau as well as six other entries in the DNZB.
In 1999-2002 she worked extensively on the huge research and translation project associated with digitising the 19th-century Maori newspapers and co-edited and contributed to two subsequent books on this topic. She was also co-editor, with fellow scholar and close friend Jane McRae, of the new edition of Sir Apirana Ngata's great collection of songs, Nga Moteatea, which appeared in 2003-2007. A recent achievement was preparing a new edition of Pei Te Hurinui Jones' King Potatau (2009).
Jeny was the only daughter of well-known Auckland architect George Tole and Janet Tole (nee Clarkson). She was brought up by her father, aunts and uncle and educated at Baradene College and the University of Auckland.
She taught at various schools including Baradene, Tamaki College and Westlake Girls. She was dearly loved by those she taught and in 1963 was one of the first three school counsellors appointed in the Auckland area. She was a Friend at Court at the Auckland District Court from 1977 to 1993.
She regarded her marriage to Allen Curnow as the most important part of her life. She married Curnow in 1965 and they were inseparable. She saw that he had the time, space and calm he needed for his writing and she guarded his reputation and legacy fiercely. They travelled often and widely together, especially to their beloved Italy. They shared a love of music, of small and uncontrollable dogs and of their bach at Karekare, a setting for many of Curnow's poems.
She was also deeply devoted to Curnow's three children from his first marriage, becoming a dear friend and close confidante. And to their children she was the perfect step-grandmother, taking an active interest in their lives, writing to them from abroad and giving them special trips.
She was a superb organiser and developed plans with meticulous care.
A generous and elegant hostess, she took great delight in people and her charm, warmth and compassion gained her a multitude of friends.
Jenifer Curnow
b. Auckland, October 2, 1931; m. Thomas Allen Munro Curnow; d. Auckland, January 21, 2013, aged 81.
- with assistance from Jane McRae.