When so many see marriage as a joke, what's all the fuss about gay weddings?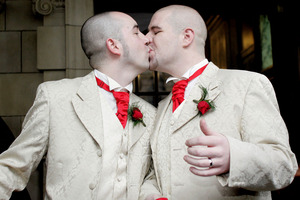 There is, if you'll pardon the expression, something rather queer about the gay marriage controversy.
I suspect many people wonder what all the fuss is about and why opponents of the Marriage Amendment Bill are so precious about an institution for which society clearly has mixed feelings.
According to that prolific aphorist Anon, "marriage is not a word but a sentence". Max Kauffman reckoned he never knew what real happiness was "until I got married - and by then it was too late".
The Edwardian pulp novelist Marie Corelli saw no need to get married because "I have three pets at home which answer the same need as a husband. I have a dog that growls every morning, a parrot that swears all afternoon, and a cat that comes home late at night".
"I don't think I'll get married again," declared American humorist Lewis Grizzard. "I'll just find a woman I don't like and give her a house." (Gizzard didn't follow his own advice: when he died, aged 47, he was on his fourth marriage.)
And no sample of marriage jokes would be complete without Henny Youngman, perhaps the doyen of the long line of Jewish-American comedians who built careers on the principle that, when it comes to marriage, the truest words are spoken in jest: "Do you know what it means to come home at night to a woman who'll give you a little love, a little affection, a little tenderness? It means you're in the wrong house."
Opponents of same-sex marriage portray the formal union between a man and woman as the bedrock of Western civilisation and repository of our core values, which piles an awesome responsibility on an institution whose heyday is long gone.
Both here and in the UK a third of marriages fail. In a given year there are roughly half as many divorces as there are marriages, hence the misconception that 50 per cent of marriages fall over. Even more telling is the rapidity with which the notion of till death us do part unravelled once divorce lost its stigma.
The Guardian recently reviewed marriage and divorce statistics for England and Wales since 1858 when break-ups, if not quite unheard of, were few and far between. (There were 24 that year.)
Both world wars pushed up the divorce rate: from 596 in 1910 to 3090 in 1920 and from 7755 in 1940 to 30,870 in 1950. Interestingly, after these wartime spikes, the numbers didn't fall back. The real surge came during the 1960s and 70s, when conventional morality and organised religion began to lose their hold. In 1960 there were 23,868 divorces in England and Wales; by 1980 the figure had risen to 148,301.
Since 2000 the divorce rate has gone into gentle reverse, as has the number of marriages. These trends, also apparent in this country, suggest people are becoming less inclined to marry in haste and repent at leisure. The law has moved with the times, making no distinction between marriage and de facto relationships that last three years.
The churches' implacable opposition to same-sex marriage is ironic on a number of grounds. Before this week's House of Commons vote, the Church of England was issuing dire warnings about the dangers of tampering with "traditional" marriage, apparently oblivious to the fact that fewer and fewer people view marriage in traditional terms.
It's also a bit rich coming from a church whose founder, Henry VIII, did more to undermine the institution of marriage than Elizabeth Taylor and the Gabor sisters combined. (Liz and Zsa Zsa might have racked up more marriages than Henry Tudor, but they didn't behead any of their exes.)
Henry also introduced a law (the Buggery Act, since you ask) making homosexuality punishable by hanging. It remained in force for 328 years.
Of course marriage has traditionally been a union between a man and a woman; how could it be otherwise when until quite recently (1986 in this country) same-sex relationships were illegal?
The Catholic Archbishop of Southwark declared that neither the church nor the state - in other words, we, the people - have the right to redefine marriage, since the traditional definition pre-dates both. In other words: leave it to God. Seeing he/she hasn't made an authenticated public pronouncement for at least 1000 years, I guess we shouldn't hold our breath.
The Sensible Sentencing Trust's Garth McVicar claims gay marriage will lead to more crime, since statistics show most crime is committed by fatherless kids.
This rather desperate assertion raises a number of questions. Aren't these fatherless criminals a reflection of the breakdown of "traditional" marriage? Where will the criminal offspring of same-sex couples come from? And if fathers are the key, then wouldn't two fathers be even better than one?
Debate on this article is now closed.