Some edicts on electoral publicity have merit, but where's the room for flair and colour?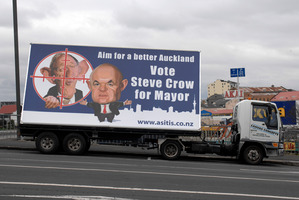 For the sake of the planet, I guess Auckland Transport deserves a pat on the back for its proposal to ban mobile election hoardings - billboards erected on truck trays or trailers that get towed aimlessly around the streets at election time, adding to the congestion and the noxious-emissions count.
On the other hand, each time I see television election coverage from the Philippines or India, with their colourful, traffic-stopping, fireworks-erupting street parades, they do seem to have found a way of putting the fun into electioneering that we dour Kiwis have never perfected.
Still, Auckland Transport does look after its bus company clients. Its proposed new election signage bylaw will allow campaign signs on vehicles used for ordinary travel, such as buses.
But not, it seems, on a bus stop bench. For some unexplained reason, election signs must not be displayed on street furniture. Whether that includes the bus shelter-cum-advertising billboards that litter Auckland streets is unclear.
Actually, I rather enjoy the eruption of signage that occurs two months before an election - and the outburst of graffiti and false moustaches and accusations of sabotage that inevitably follows. It's one area of election campaigning that the centralised political machines are unable to fully control. They can't be guarding umpteen billboards night and day, up and down the land. Often it doesn't even need a saboteur to topple a candidate's likeness. A good gust of spring wind is enough to blow some of these amateurishly erected structures face down in the mud.
Codifying the various rules of the heritage councils, which is the aim of the bylaw, is a sensible proposal. Manukau City, for example, used to forbid election signs in public places. Given the temporary nature of the signs, and their vital place in our democracy, this does seem a draconian prohibition that will be well done away with.
But I'm not sure why signs cannot be "animated" nor have "flags or other material" fluttering off them. Perhaps they're worried a tricky politician will ensure his or her flag obscures that of neighbouring rivals, leading to fisticuffs at dawn.
Also head-scratching is central Government legislation that specifies that election signs "cannot be made of reflective or illuminated material whether internally or externally".
Perhaps they're worried that candidates will wheel in portable generators to light up the halos around their pictured heads.
But in these days of solar-powered cells, such as Auckland Transport uses to light and power its real-time indicator boards at bus stops all round the city, this blanket ban seems excessive.
Oh yes, and Auckland Transport also wants to ban signs from "under the drip line of trees and on areas of geological or archaeological features".
I can buy wanting to protect the roots of trees and archaeological sites, but with Auckland being one huge geological feature, such a ban, if taken literally, seems a tad broad.
Labour's transport spokesman, Phil Twyford, delivered a low blow by suggesting Auckland Transport should be concentrating on making its trains run on time rather than making up rules about election signs. I suspect that privately, the board and management of Auckland Transport would agree. But with the roads and public transport, Auckland Transport inherited the berms and other likely roadside signage sites at the time of amalgamation.
What I bet no one has told it is it also inherited the problem that is Ike Finau, the perennial Grey Lynn sign pest.
About 13 years ago, the old Auckland City Council began a lengthy tussle to force Mr Finau to remove the sometimes defamatory, often abusive, occasionally witty political signs that lined the front of his section. After 18 months of threats, the council began a cat-and-mouse pursuit through the courts. Another 18 months on, it finally persuaded a judge that Mr Finau was in contempt of court for not obeying a court order to remove his signs. Judge Roderick Joyce committed him to jail for 21 days, but in a misguided gesture of Christmas goodwill, gave him another month "to purge his contempt by taking the signage down". Fat chance of that.
Instead, it was Auckland Council that turned chicken and went to the judge and said to forget it, locking him up would enable him to cast himself as "a martyr of free speech". Ten years on, the self-proclaimed follower of "God's law" continues to breach the sign bylaws with impunity, ranting at the so-called iniquities of anyone who upsets him. Go Auckland Transport.