A group of immigrants chose Waitangi Day to become New Zealand citizens. Reporters Vaimoana Tapaleao and Kieran Campbell met some of the new New Zealanders.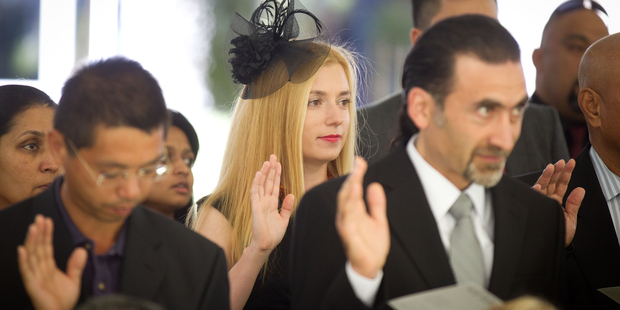 Antoine Habboub, 46
Lebanon to Auckland
He is allergic to kiwifruit and being a vegan means he can't eat pavlova.
But despite his food preferences, Antoine Habboub is a fully-fledged New Zealander.
The Lebanese gynaecologist arrived in Aotearoa seven years ago.
His love for the country started long before that. "In the 90s, I think, I watched several documentaries about New Zealand. In particular was one documentary about Invercargill. So actually Invercargill was my first job in New Zealand as a doctor."
He had been a doctor in his home country but struggled to find work.
After visiting New Zealand in 2003 he decided to move here and retrain so his qualifications were recognised internationally.
"It was a bit difficult for me to come here. The friends I was sitting with [today] were the only people I knew from home before I came to New Zealand. English is not my first language, it's my fourth."
He said becoming a citizen of the country he called home was a proud moment. "What I like is the nature and the green."
Edmund Bagsit Cuevas, 38
Philippines to Meadowbank
As a student living in New Zealand, Edmund Cuevas grew to love the country, its culture and people and knew he wanted to make it his home one day.
It's been seven years since he and wife Maureen decided to make a permanent move from the Philippines, where they both grew up.
"We both studied here for a while and when we went back to the Philippines, we really missed here," Mr Cuevas said. "Our area of study is the environment and we loved the environment here in New Zealand, as well as the culture."
The couple sealed their loved for the country by becoming citizens this week - joining their 3-year-old daughter, Eden-Marielle, who was born here. "She was a citizen before us," Mr Cuevas laughed.
"For us, this is our home now and this is where our daughter will grow up. I want the best for her and I want her to feel like this is her home. I have high hopes for her."
Tuihaatala Vakauta, 41
Tonga to Mt Roskill
He's a staunch supporter of the Tongan rugby team - 'Ikale Tahi - but Tuihaatala Vakauta is willing to back the All Blacks full-heartedly now that he is a Kiwi.
"I'm a proud Tongan and when the 'Ikale Tahi play, I always go for them. I support the All Blacks too, but not as much. But from now on I will support both teams the same, because they're both my countries now."
Mr Vakauta, a truck driver, hails from the village of Kolomotu'a but has lived here for more than 20 years.
He wife is a New Zealand-born Tongan, and their six children were all born here.
He said becoming a "real Kiwi" meant he now shared something with his family that he never had before.
"I always felt left out because I was the only one who wasn't a real Kiwi. When we travel, I have to go to a different line because we have different passports.
"But I feel honoured ... to be here and to be able to live here knowing that this is truly my country now."
Juan Setiadi, 22
Indonesia to Auckland
New Zealand saved Juan Setiadi's life.
Mr Setiadi arrived in New Zealand as a 3-year-old in desperate need of life-saving medication. He had been diagnosed with leukaemia and there was nowhere to access the care he needed in Indonesia.
Becoming a citizen of the country that helped him live was emotional for the 22-year-old.
The fashion design student at NZ Fashion Tech took the oath with his father William Setiadi, 70, by his side.
Having grown up and studied in Auckland, Juan Setiadi said it had always felt like home.
"I saw no future in Indonesia and my future was here.
"It's clean and people are nice here. I have the freedom to travel the world and what not."
Sylwia Opajdowska, 20
Poland to Sunnynook
Sylwia Opajdowska apologises to her mother as she talks about the family roots in their homeland of Poland.
"Sorry Mum, that's not home for me - New Zealand is. I don't feel Polish."
The family, from the city of Rumia, moved to New Zealand 11 years ago to start a new life.
Miss Opajdowska, the youngest of five children, celebrated her 9th birthday days after arriving in her new home in Auckland.
Everything she knows is in this country and for her, this is her true home, she says.
"That's why I wanted to get this done. I feel Kiwi and I am a Kiwi. I don't follow rugby much, but this is the place I know."
The 20-year-old is studying towards a communications degree, majoring in public relations at the Auckland University of Technology.
Luz Maria de Sequeiros, 45
Peru to Auckland
Luz Maria de Sequeiros gave birth to her son in New Zealand six years before she even moved to the country.
She was visiting family from Peru while pregnant with her second child, who arrived prematurely.
Though her son, who turns 21 this year, has always been a Kiwi, Mrs de Sequeiros did not move to New Zealand until 15 years ago.
"My husband's family came first to New Zealand many years ago.
"We found that New Zealand is a very nice country. We came as tourists first and then we were happy to come and try to live here."
She spoke no English when she arrived - a hurdle that was difficult to overcome.
She is the last one in her family to become a citizen, but this week's ceremony was worth the wait, she said.
"When I arrived and found a different culture here and the language and the weather, well I was missing my home. But after a few years I settled here and I've enjoyed how my kids have grown up here and find New Zealand as their home.
"It's taken me a little bit of time but I find New Zealand as my home. You can trust, you can be safe here, I love and enjoy the safety."
Jeff Lai, 42
China to Lynfield
Jeff Lai's young daughter claps her hands gently and waves to her dad as he walks up to receive his certificate at the citizenship ceremony.
Six-year-old Elly runs past her mother, who is taking photos, and into her father's arms.
"It's a very good day for my family," Mr Lai says with a big smile.
"I've been living here for 11 years and I love this country. A long time has passed and I thought: 'It's time to get the citizenship'."
Mr Lai, a carpenter, hails from the province of Fujian. His Chinese accent is still thick, but he speaks to his daughter in English and she answers him in a thick Kiwi accent.
"This is where my daughter was born and this is our new home, for all of us," he says.
"We like to be a part of the culture here and the people."
Krupa Patel, 18
India to Auckland
Krupa Patel has lived in New Zealand so long that the last time she travelled to Australia she attracted comments about her accent.
The 18-year-old, her sister Nupur, 22, and mum Rachna, have lived here since 1996 and although they have often returned to India to visit family, they say they're as Kiwi as a can of L&P.
"I got told at the airport when I went to Australia that I had the strongest accent that they'd heard all day," Miss Patel said.
"I don't know what the accent is though. It sounds normal to me. I grew up with it so it sounds normal."
Only Rachna's sister-in-law was living in New Zealand when the family decided to follow her here.
"I don't have family here ... nobody wants to come here, they're all well-settled [in India]," Mrs Patel said.
"I always like life like this - nice, clean and green and slow.
"I grew up in Bombay. So once we came here we all settled into a nice and simple and straightforward life."
Karen Ehlers, 52
Germany to Devonport
Becoming a New Zealand citizen alongside her daughter was "something special" for Auckland woman Karen Ehlers.
The 52-year-old shared the day with her 15-year-old daughter, Lea, who also received her Kiwi citizenship at Government House this week.
Mrs Ehlers said the day was already huge for her, but even more so having her daughter alongside her.
"I feel special being here with Lea. It's our day."
The family, originally from Berlin, have lived in New Zealand for several years.
"We are all here together and it's our home," Mrs Ehlers said.
"We wanted to get this done to acknowledge this place and to acknowledge the place we have learned to love as our home and country."
Jeanny Fesolai, 40
Samoa to Auckland
Jeanny Fesolai arrived from Samoa with her parents 39 years ago.
When she became a citizen this week she felt like wrapping her arms around Governor-General Lieutenant-General Sir Jerry Mateparae as he congratulated her.
"Although I know [I'm a Kiwi], it just didn't seem complete.
"I felt like kissing Jerry and I had to really restrain myself from giving [him] a hug and a kiss," she said.
The fulltime mum was only 12 months old when she moved to the country, but it took almost four decades for her to decide to become a New Zealand citizen.
She said she had never really missed out on anything by being a permanent resident and it was a surprise at how emotional she became at the citizenship ceremony.
"I didn't think I'd feel that overwhelmed or proud, really, because I've always seen myself as a Kiwi anyway."