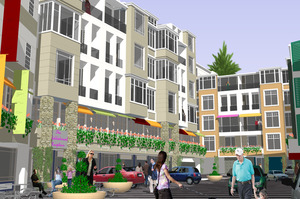 A plan to build a multi-storey retirement village in the heart of Warkworth is based on research that found that older people want apartment living in a country town but do not want to be reliant on a car.
The retirement village site is behind a historic hotel in the town's main shopping street. Resource consent is being sought for 83 retirement residential units, an aged-care facility of 28 units and 10 shops.
The applicant company is Oaks on Neville, whose shareholders Chris Murphy and Greg Kasper have owned and operated retirement villages since 1985.
Mr Murphy said he had several calls a week from people interested in the project during a year of talks with Auckland Council and urban designers, which resulted in a number of changes.
He said people sought to retire to places where facilities were within 2.5km.
"People want a living situation in central Warkworth where they don't need to be reliant on their ability to drive," he said.
The town's three supermarkets, cafes, banks, medical centres and waterfront would be within 200m walking distance of the site between Queen St and Neville St. The project would bring more year-round activity to the town which relied on the summer season when thousands passed through.
Earlier, residents expressed concerns about the six-storey height of new buildings, a prominent stand of oak trees and the future of the Warkworth Inn, parts of which date back to 1864 and 1875.
Mr Murphy said the proposed three blocks were not out of character, given other modern buildings in the town's commercial area.
The inn's two-storey facade and pitched roof would screen the development and he believed it should be a focal point as a quality pub, restaurant or function centre.
However, the inn was in poor condition and needed much work.
Warkworth Grey Power president Anne Martin said there were mixed views about retirement villages in the town.
"Some will like to be able to look out the window and watch life and all the hustle and bustle; others will want to hear the cows mooing."
She preferred her home on the busy State Highway 1.
Resident Bruce Manson said he supported the project.
"There is a need and it's very efficient use of that piece of land."
Historian and long-time resident Beverley Simmons said she opposed such a concentration of buildings on that site.
"I would not have a bar of it myself. Who wants to be cooped up with 160 other old people?"