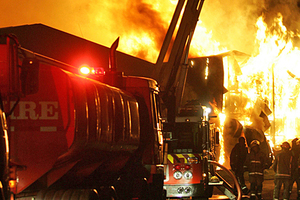 Homeowners could have to pay more in Fire Service levies under a proposed shake-up of the way the service is funded.
An independent review panel was set up last year to suggest changes to the way the Fire Service is funded, structured and operates.
Its report, released today, recommends lifting the cap on how much of a home's insured value is subject to levies - a figure which has not changed since 1994 despite significant increases in property values since then.
Homeowners currently have to pay a levy of 7.6 cents per $100 of a property's insured value, up to a cap of $100,000 - a total levy of up to $76 per year.
The review panel has recommended increasing the cap while reducing the levy rate, to reflect increases in property values over the last two decades.
It said more work was needed to determine how much the cap should be raised, but among the options was to increase the cap to $250,000 while decreasing the levy rate to 4.6 cents per $100.
That means the maximum levy would increase to $115 a year - $39 more than homeowners have to pay at present.
Residential property owners contributed $118.5 million in levies last year, which is more than a third of the Fire Service's total funding.
Consumer NZ research and testing manager Hamish Wilson said while the maximum levy would increase under the proposal, it would be shifted onto those homeowners who were better able to afford it.
"People who are in lower-valued homes would be paying a bit less, so it is a progressive system. But if you're going to go down that route, you could argue that the cap should be set even higher."
Mr Wilson said it had taken too long to review Fire Service levy rates.
"It should be done far more regularly, and that would avoid this sort of bill shock effect that obviously consumers are going to be up for."
He said people could negate any such price shock by shopping around for insurers.
"Whenever this does come in, that would be our advice to people - look for a better deal. A lot of people, we find, are actually paying more than they need to."
Insurance Council chief executive Tim Grafton said the report turned a blind eye to the unfairness of the insurance-based levy system.
He is calling for a rates-based levy system instead.
"Hundreds and thousands of New Zealanders who do the right thing and properly insure their properties have to pay for free-loaders who don't insure or under-insure to have their property protected.
"It's simply not fair, and we urge the Government to address this fundamental issue as it considers the next steps to take."
Mr Grafton said both Australia and the United States had shifted away from funding firefighters through insurance premiums.
"If a levy were applied to rates, everyone who owned a property would contribute toward the protection the Fire Service provides, and it would be fairer and very difficult to avoid."
The report recommended other funding changes, including greater contributions from the transport sector and commercial property owners.
It also called for an immediate change to the legislation governing the Fire Service, which currently covers only the work of fighting fires, despite the service's broader role within the emergency services.
The law change would give the service the legal mandate to continue doing the work it already does - including extracting people from car crashes, decontaminating people exposed to hazardous chemicals, pumping water out of flooded homes and covering roofs during high winds.
Firefighters would also be legally protected if things went wrong during a rescue or an emergency.
Internal Affairs Minister Chris Tremain, who commissioned the report, described the report as "evolutionary, not revolutionary" and said the Government had not committed to or ruled out any recommendations.
"Before making further decisions it's important to hear from key stakeholders. Some of the proposals also require a significant amount of further work and analysis."
He expected further decisions to be outlined by April.
- APNZ