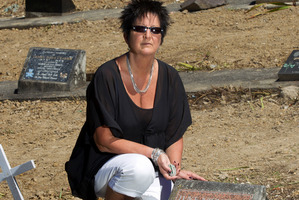 The desecration of infants' graves by council workers has devastated grieving families, who are now calling for someone to be held to account.
Three rows of graves in the infant and stillborn children's section of Waikumete Cemetery were ripped up to remove what Auckland Council has described as "inappropriate or unauthorised plot decorations".
The council has apologised for any distress caused by the work, which has now been put on hold, and acknowledged it could have communicated better with plot owners.
But families are still seeking answers after workers dumped treasured ornaments and left at least one coffin exposed.
Linda Wade, whose 11-day-old son Luke died of complications from a diaphragmatic hernia in June 1990, said she was horrified to find his grave had been cleared when she visited on Monday.
"I was devastated. I didn't sleep, I spent the night crying," she said.
"It's upset our whole family, and it's upset a whole lot of families."
The area in front of Luke's grave had been adorned with a wooden border containing stones collected on family holidays, and an ornament Ms Wade chose with her mother.
"It's the only place we can go to worship, and they've destroyed it."
Monica Snook found the cemetery criss-crossed with track marks from heavy machinery on Saturday, when she was visiting the grave of her son Rimo, who was stillborn in February 2002.
His grave was untouched, but another parent had found a hole so deep that a coffin was exposed. Headstones had been moved and a pile of ornaments had been taken to a dumping pit on the site.
Ms Snook said she was frustrated by the lack of consultation.
The council had put up signs in September last year to advise work would be carried out in October. But the notice said only that decorations would be cleared, and did not state that concrete blocks and ornaments would be uplifted to plant a lawn.
"The whole way they've gone about it is wrong," Ms Snook said.
"I want answers. I want someone to be held formally responsible for it."
Auckland Council's acting parks, sports and recreation manager, Mace Ward, said the work was part of a programme to upgrade and tidy areas of the cemetery, including the removal of "inappropriate or unauthorised plot decorations".
He said there had been no damage to headstones, but decorations had been removed from the site.
Mr Ward said the way the work had been carried out, especially in a sensitive area of the cemetery, was unacceptable.
"We sincerely apologise to the families that have been affected and hurt in terms of the works that have been undertaken."
- APNZ