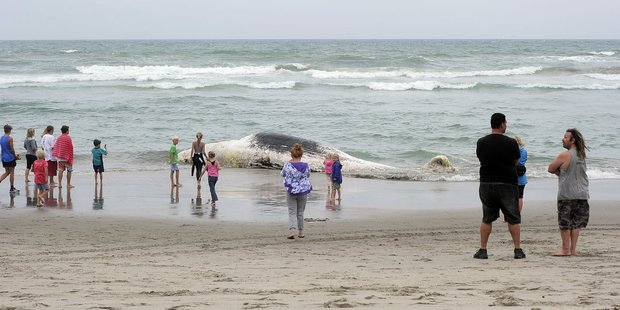 Stories making headlines across New Zealand at noon include a dead whale sparking an emergency, some pushing and shoving at Waitangi and the fountains will no longer run in a major city.
The rotting body of a sperm whale sparked an emergency callout off the Western Bay of Plenty coastline.
Ngapuhi elders apparently decided not to "jump up and down" about Titewhai Harawira escorting John Key to the Te Tii Marai at Waitangi. But what would Waitangi events be without some pushing and shoving.
Here's a video of Sir Paul Holmes leaving Mana Estate in Hawke's Bay for the final time.
Hamilton is turning off all the fountains around the city.
Were you at Raggamuffin at the weekend? Try to find yourself in this 360 degree view.
Angela Munro was cycling with her 22-month-old daughter when "this dark brown ugly thing started biting my foot" and after the dog was put back on the property and as she was being helped it escaped and came back for another go.
Two squatters who have built their baches on a council road at the mouth of the
Whangaehu River are on notice to remove their dwellings or they will be bulldozed.
A Kelvin Heights resident was driving to work when suddenly a very large macrocarpa fell across the road directly in the path of her car.
Negotiations to settle payouts for 192 employees of Summit Wool Spinners who will lose their jobs at the end of the month are close to the final outcome.
Five South Island white-water kayakers have "knocked off" the kayaking equivalent of Mt Cook, completing the first ever descent of the Upper Waitaha River.
Top trending topics on Twitter in NZ at noon were: #SevenSharp, #BlueRose, #GreysAnatomy, Richard III, Ravens, #TheBlueRose, #twitknit, and #waitangi
Other stories making headlines this morning
Rotorua eateries ignore surcharges this Waitangi Day
Winston Peters' targeting National
GardenBarn owner vows to rebuild after fire
Queenstown to host Key and Gillard
- nzherald.co.nz