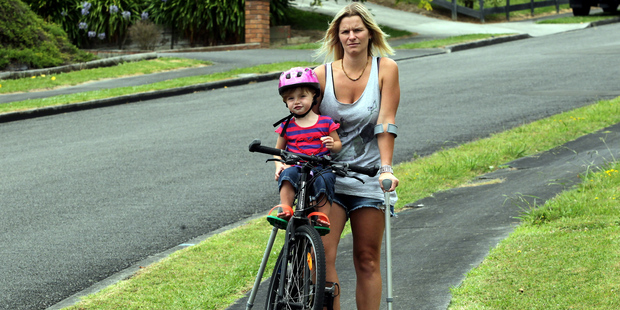 A woman was attacked twice by a large dog on Friday - once even after the dog had been taken back to its property by its owners.
Angela Munro was cycling down Parkdale Drive in Wanganui just before 3pm on Friday with her 22-month-old daughter Jaime on board when a dog bolted across the road and attacked her.
"I heard a dog barking and then this dark brown ugly thing started biting my foot as I was pedalling."
Mrs Munro, who was wearing jandals, stopped the bike and the dog bit her again.
Concerned for her daughter, Mrs Munro started yelling, which alerted the owners of the dog, and a motorist stopped to help and called St John Ambulance.
The dog was put back on to the property, but as Mrs Munro was being helped, the dog escaped and came back to attack her.
"I was terrified the dog was going to get me again."
The apologetic owners called Wanganui District Council's Animal Control who came to collect the dog.
The female animal control officer told Mrs Munro that any medical costs would be covered, and to keep all her receipts.
However Mrs Munro was now uncertain as to who was going to pay the costs for the ambulance, $20 for the Whanganui Accident and Medical Clinic visit, and medication.
ACC is covering her employment.
Mrs Munro suffered two puncture bites to the sole of her foot, one puncture bite on the top, and bruising, and has been on crutches and was unable to work at her Friday evening job.
She was not back at work yesterday and was doubtful that she would be able to work today.
Wanganui District Council customer services manager Melanie Heron said the dog was handed over to the council, which was going through the required process to have it destroyed.
Mrs Heron said the dog's owner has been asked to pay reparation to Mrs Munro.
She also advised that it was not necessary for Animal Control to call the police.
For more articles from this region, go to Wanganui Chronicle