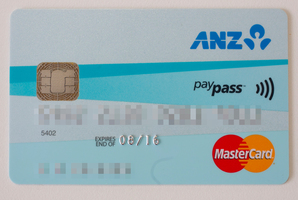 Shoppers can now buy nearly $80 worth of goods on a credit card at many shops without having to sign or use a Pin number.
The backers of the technology say it is a safer way to shop. But several card users interviewed by the Herald were worried by the prospect of fraudsters being able to use a lost or stolen card more easily with the new "tap and go" system.
Using the "contactless" technology associated with newly issued MasterCard and Visa credit cards, transactions under $80 can be done by briefly holding the card within 4cm of the payment terminal. Having to sign or enter a Pin is reserved for transactions of $80 or more. The technology will be used with debit cards, too.
The new Mastercard cards have "PayPass" written on them, and the Visa version says "PayWave".
MasterCard says several banks, including ASB, ANZ, BNZ, Kiwibank and Westpac, are issuing contactless cards.
MasterCard New Zealand's country manager Albert Naffah said 10,000 credit card terminals - about 5 per cent of the country's total - now had the technology for the contactless transactions. They were at stores including The Warehouse, JB HiFi, Bunnings, Repco and BP.
All new MasterCard cards issued since last October used the new system, Mr Naffah said, and no facility was available to allow customers to switch off tap and go. "That's because it's becoming standard functionality in the same way in which the magnetic strip was added 40 years ago and has become standard and the same way as the chip became standard a few years ago."
He said when mobile phones replaced plastic cards as the main form of credit cards, which he predicted would happen soon, "it will allow you to turn things on and off and set different thresholds".
The Banking Ombudsman's office says the decision to issue the contactless cards without an opt-out facility, "is not something that we can review".
Asked if there had been any increase in credit card fraud associated with the new cards, Mr Naffah said there were no figures for New Zealand yet, but overseas, where the system had been in use for longer, there was a reduction.
"There's now less of a need for card-holders to hand over their card for transactions. That helps with reducing fraud levels.
"Historically, the highest levels of fraud in the retail environment are as a result of skimming."
In skimming, the checkout operator secretly swipes the card against a reader which records electronic details for use in a counterfeit card.
Banking Ombudsman Deborah Battell said she was not aware of her office having received any complaints about contactless cards.
Her office says card-holders will generally not be liable for losses from unauthorised use of their card unless they had acted fraudulently or negligently, or had contributed to the loss.
Compared with traditional credit cards, the office says, there is a greater chance with contactless cards of transactions of under $80 being made "without your knowledge or consent" - because a Pin or signature isn't required.