Organisation left with $600,000 bill to dispose of refuse dumped at its stores.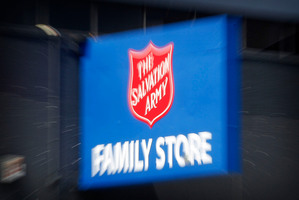 Rubbish being dumped outside Salvation Army stores is costing the organisation hundreds of thousands of dollars.
Many Salvation Army stores have signage asking donors to leave behind "quality, re-useable items".
But many stores are finding people could be confusing treasure for trash.
The church spent $600,000 last year carting rubbish to tips - funds the Sallies would have spent on community projects.
Lieutenant Colonel Lynette Hudson, the army's secretary for business administration, said the organisation's 114 stores were grateful for the generosity shown by many New Zealanders who bring them a vast array of items every day.
"They key thing we want to get across is we absolutely appreciate the generosity of the public.
"It's about good recycling, it's about generating income for our community-based activities that's what keeps us going and it's about our appreciation that people support us in that way," she said.
The Herald has been told of staff arriving to work and sometimes finding torn, damp and mouldy clothing, broken electrical items and furniture and bric-a-brac that have to be thrown out, piled outside their stores.
"It is a lot of waste, we do recognise it is part of running a business but it does have an impact," said Lieutenant Colonel Hudson.
"It's not a widespread issue, although it is much more predominant at this time of year where people tidy up their homes. So for some stores it does become a significant problem."
The Herald spoke with a staff member at a South Auckland Salvation Army store who said she and her colleagues often found boxes of re-useable items outside their store had been rifled through and saleable goods had been stolen.
She said many stores reported similar issues - receiving goods that cannot be re-used or recycled and were costly to remove.
"We get broken things, stuff with cobwebs on it and stuff that has just been piled up in a bag and chucked to us ... clothes that are mouldy, stinky, smelly and we are talking about mountains of the stuff."
Another staff member said truck drivers were being called to homes expecting to pick-up items such as lounge furniture or beds only to find the goods were broken.
"Some people get a bit angry when our drivers say the stuff is no good. But really, if a table only has three legs and a chunk missing from the side of it, well no-one can use that, can they?
"We recognise that it's not always possible for people to leave things in the time we are open," Lieutenant Colonel Hudson said.
"Some people are thinking "we will just drop it off on our way to work."