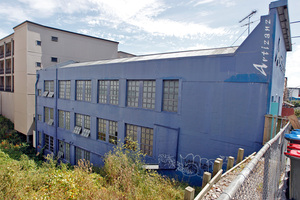 Marching orders given as block lacked residential permit.
A block of apartments owned by a troubled property developer never had consent for residential use and tenants have been evicted.
Mark Lyon's property Artizanz, in the Auckland suburb of Eden Terrace, has 28 apartments, all of which he owned bar three. Auckland Council issued an abatement notice last year and tenants had until January 28 to leave.
Tenant James Bryenton said most were out by the deadline, but police had been visiting daily in the lead-up to it. He had had to break into his apartment to get his final few possessions.
Former tenant Marcus Barker recently unsuccessfully applied to be bailed to the Karaka St address when he appeared in the Auckland District Court on a charge of failing to appear for previous matters. Police prosecutor Lila Tu'i said the police had been asked by the council to stop bailing defendants there.
Barker is a friend of Lyon's son, who also lived there.
The council confirmed it had been trying to remove tenants from the property, which did not have consent to be used for residential purposes. The council served an abatement notice last September requiring the owner to stop using the building for residential use and was satisfied he had been making progress towards complying.
Lyon, 57, also known as Alistair Stuart Lyon, has been convicted of drug and firearm offences. He had previously been a property developer and company director. Born into the wealthy Goodman Fielder Wattie empire, he was once known for his lavish lifestyle.
Bryenton said the owners of the three apartments sold by Lyon had been fighting eviction, but ended up leaving.
"One of the problems was that there was no parking for tenants and we kept getting towed from the pub carpark across the road. We've had all sorts of issues. That building has seen it all. We had the police doing raids all the time." Lyon had lived in one of the apartments but moved out last February. Since then people had been squatting in some of the apartments. "A guy who is acting for Mark Lyon has said he'd pay me to clean up the downstairs apartments. I told him I need gloves, white suits and masks. The smell emanating from some of the rooms ... it's pretty bad."