Sunburn and insect bites among claims from 30,000 Kiwis while they were enjoying the great outdoors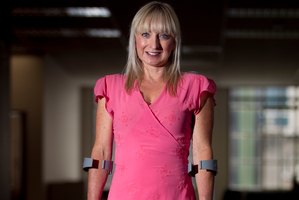 Stacie Taylor never imagined she would spend her New Year's holiday in hospital, waiting for emergency surgery after a mishap with a wine bottle.
But that is exactly where she was after a "freak accident" on January 1 left her with a virtually severed tendon in her foot.
She made a claim with ACC, who are now funding taxis so she can work, medical expenses and home help.
Last year the corporation shelled out almost $9 million for summer-related injuries, including more than $11,000 to Kiwis with sunburn.
A further $278,261 was paid to people who suffered barbecue injuries and almost a million left ACC's coffers for insect bite claims.
In 2012, 30,737 people made claims for injuries they sustained doing what Kiwis do best - enjoying the great outdoors.
Of those, 14,311 were paid a total of $943,126 for insect bites and 2953 received $827,886 after hurting themselves in and around swimming pools.
Body boards proved more painful than fun for 211 people, who were paid $72,939 in compensation and a whopping $1,599,929 was paid to 3703 others who suffered "beach injuries".
The majority of the money was paid out to people injured on the water.
Waterskiers were paid just over a million dollars, surfers racked up $1.6 million in claims and boaties just over $1.7 million.
But perhaps the most unusual "injuries" were the 50 people who claimed $11,665 from ACC for sunburn. No further detail could be given about those claims, to protect the privacy of the recipients.
Stacie Taylor's injuries will be included in 2013 figures. The APN Auckland accounts manager was carrying a bottle of sparkling wine in a plastic shopping bag when the drama unfolded in Tauranga.
"The bag just split, the bottom just literally fell out and the bottle hit the ground just between my feet," she said. The glass hit both of her ankles, but at first she did not realise how hard.
"It scratched one, and it cut through 90 per cent of a tendon on the other. It's a major tendon, the posterior tibial tendon. I got a bit of a fright, but it didn't hurt at first. I was more worried about the broken glass on the road and getting it cleaned up. My friend was saying 'oh my God, we've got to get you to a hospital'.
She has had surgery to repair the tendon and will be in a cast and on crutches for 10 weeks, during which she cannot put any weight on her foot.
"I can't do any cleaning ... it's even hard just getting a glass of water. You pour it and then on crutches, you can't take it anywhere," she said.
"It was a real freak accident. I wasn't drunk, I didn't do anything silly. It's really frustrating."
Under the Accident Compensation (AC) Act 2001, ACC must consider whether applications for claims and assistance relate to a specific definition of an "injury".
Physical injuries can include wounds, lacerations or contusions, burns, sprains and strains, fractures, amputations or dislocations, damage to dentures or prostheses, blindness, poisoning, choking, loss of consciousness or a foreign body in the eye.
"ACC considers that a physical injury has not occurred unless there is actual damage to the body from the injury. Neither is a diagnosis of pain sufficient to establish there has been a physical injury; an actual diagnosis of the injury is required," their website states.
Wild outdoors
ACC claims for 2012
Boating
2962 claims
$1,775,857 paid
Surfing
3408
$1,667,338
Beach injuries
3703
$1,599,929
Waterskiing
1590
$1,002,578
Insect bite
14,311
$943,126
Swimming pool
2953
$827,886
Jet ski
416
$516,753
BBQ injuries
938
$278,261
Windsurfing
195
$111,675
Body board
211
$72,939
Sunburn
50
$11,665