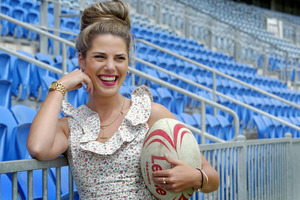 Rugby officials say a red card might be pulled on the rugby website that has caused an uproar for posting an image of a female Northland referee administrator wearing a bikini, with a lurid caption beneath.
However the man responsible for the website says the sexism row has been blown out of proportion - though he is grateful for the increased web traffic it has generated.
The president of Northland Rugby Referees' Association (NRRA), Martin Albrecht, said the person who ran the KerikeriRugby.com website had made "a sexist faux pas".
But Murray Potts, who is responsible for the website, says he feels he has been ambushed by the Northland Rugby Union (NRU) and the media after he posted the photo he had lifted off the young woman's Facebook page.
He had later placed a caption beneath the photo saying: "Northland Referees blowing their whistle prematurely in 2013 could spend time in the Sin Bin, if this is anything to go by!"
Yesterday Mr Potts admitted he had initially made an "error of judgment" in first posting the photo. He had complied with NRU requests to remove the photo and the accompanying caption last week.
But yesterday, a manipulated image of the woman, Alanna Clare, was posted clad in signs accusing the NRU, NRRA and Northern Advocate of censorship.
Mr Albrecht said the organisation was worried about the pressure the unwelcome, sexist attention had put on their employee.
"Our association is strong and we are not afraid of publicity, but we are conscious that Alanna is in a vulnerable position. As referees, we're tolerant to a certain degree until we are forced to pull out a yellow or red card, and we may well do that yet."
Mr Albrecht said his organisation would review the situation today before deciding whether to take further action.
Although the website material had been upsetting, their new recruit's reaction demonstrated her ability in her new role, one that would require mediation skills, he said.
"We support her 100 per cent," Mr Albrecht said. "She has shown leadership and tolerance. It was certainly not a sexist faux pas on our behalf. It was one individual's faux pas."
NRU chief executive Jeremy Parkinson said Mr Potts had displayed "bad judgment" that fed into an exploitative image modern rugby had moved away from.
"We're totally disappointed. It's one man making some bad decisions and casting a black cloud over one of our better clubs in Northland."
He said the NRU would also consider the implications of material posted on the Kerikeri Rugby site.
Meanwhile, Mr Potts said he administered the rugby website to help raise the profile of the sport locally, particularly junior rugby, in which his family was involved.
The website was not an "official" Kerikeri Rugby Club one and the club was not responsible for the incident which Mr Potts said had been blown out of proportion.
He said he was grateful for the web traffic the issue had brought the website.
In an online poll carried out by the Northern Advocate, 69 per cent of respondents disagreed with the use of the photo of Ms Clare in a bikini on the Kerikeri rugby website.
Seven per cent agreed, 12 per cent said "that's social media" and 11 per cent were not worried.
For more articles from this region, go to Northern Advocate