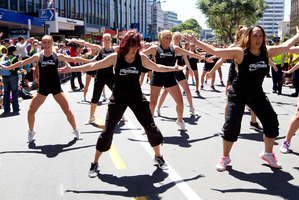 Wellington's biggest party has kicked off in colourful style with rugby sevens fans dressed as everything from wizards to lizards.
The two-day Wellington Sevens tournament is known for the weird and wonderful costumes of spectators, many of whom have packed waterfront bars on a glorious, hot afternoon.
The sporting action kicked off at Westpac Stadium at 1pm and wraps up tomorrow night.
Extra police and ambulance officers will be on duty as about 70,000 fans are expected in the capital for the event - which has become as known for its off-field antics as the action on it.
Wellingtonian Riki Bradley, dressed as a shirtless cowboy, was among hundreds who gathered at the waterfront before heading to the stadium.
He said the Sevens was "pretty much the best weekend ever".
"It's just the fact that everybody's into - and the girls, oh my god, there's so many.
"But the reality of it is everyone's up for it, and why not be a part of it? And the weather is cranking today, so you've got to get out there and enjoy the most of it."
Jessica Higueras and friends were dressed as glamorous gladiators, modelled on Madonna's outfit at the Super Bowl last year.
She said it took three weeks of planning and three days of sewing and gluing.
"It's all hand-made by myself."
Ms Higueras said the atmosphere was "awesome" and she was looking forward to getting to the stadium.
Aucklander Regan Wright, 34, was with a dozen-strong group dressed as dominatrix police officers.
He has been coming to the Sevens for the last six years, but the longest-standing member of the group had been coming for 11 years.
Some of the group was from as far as Sydney - despite not having tickets to the tournament.
"This is the first year we didn't actually get tickets, we just decided to soak up the atmosphere and have a good time down here.
"Oh mate, you can't go wrong - the happiness and good vibe of it all is just awesome. Never any trouble down here, just a bunch of guys getting on the lash but behaving actually quite well."
Aucklander Michael Bell, 27, was with a group of who had imported bulky plush Care Bear outfits for the event.
"We got them in from China. They cost a fair bit, about $300 each."
Mr Bell said dressing up was the best part of the Sevens weekend.
"And the good laughs - you come home with sore abs from laughing so much. It's all about the vibe."
Costume Company manager Gemma Freeman said there would be a rush of Sevens fans at the central Wellington costume hire shop today.
"A lot of people are very last minute. If people are making their costumes, then they might have started a month ago or even earlier, but if you're going to hire something, we catch all the last-minute unprepared people."
Sevens operation commander Inspector Simon Perry said extra staff had been brought in with the aim of stopping people getting into trouble - as well as helping to stop drunk people from becoming victims of crimes.
"Our role out there is to prevent harm taking place and to look after the people who perhaps can't look after themselves, and that's along with the other emergency services."
Almost 100 people were arrested over the Sevens weekend last year, although only 14 were at the stadium.
Officers would have a quiet word with most would-be trouble-makers - but arrests were likely if people's behaviour prevented others from enjoying themselves.
"That includes picking fights, jumping on people - that sort of behaviour we do tend to clamp down on."
He said people vomiting and urinating in public was an issue, but was a central city issue year-round.
"We do our best to try to stop that behaviour, but once again we're more focussing on that prevention of harm."
As well as extra emergency services staff, Wellington City Council volunteers will be handing out water to fans walking to the venue this year.
The council will also trial having food stalls set up in Courtenay Place, which will be closed to traffic from 5pm tomorrow to 6am Sunday.
- APNZ