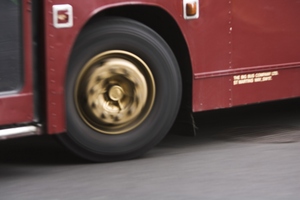 The Ministry of Education has admitted some school buses may not be suitable for transporting all wheelchair-bound pupils, after it was made aware of a parent's safety concerns.
Pat Fox of Oamaru said she believed her 19-year-old disabled daughter's life was put in danger at least two days this week, because the school bus was not fitted with the correct anchor points to securely restrain her daughter's electric wheelchair.
Mrs Fox said the combined weight of her daughter, Katelyn, and the wheelchair was about 250kg.
The chair should be tied down with special webbing straps, floor-mounted brackets and seat-belts, but she had been informed by Katelyn's carers at Idea Services no suitable restraints were in place.
She said the chair appeared to have been restrained by two straps, which had been attached to a "metal thingy" and tied to one side of the chair, but there had been no seat belt and the chair was able to move around and rock.
The lack of proper restraints meant her child might have been taken to school on Monday and Wednesday "in a very unsafe manner", one that could have been life-threatening, she said.
"Katelyn has had massive brain surgery as a baby - there is an area of her skull that has no bone. She has thousands of blood vessels tied off.
"A blow to the head would basically kill her."
Christchurch-based Ritchies Transport Holdings Ltd (RTHL) was awarded the Ministry of Education school transport special education school transport assistance contract to transport special needs children at schools in the Ashburton, Buller, Gore, Marlborough, Oamaru and Rotorua clusters last year.
Ministry resourcing group manager John Clark said all contract tenderers vehicles had been checked by the NZ Transport Agency to ensure they met "specific age and safety requirements".
Mr Clark said although all buses were legally compliant, additional structural changes might be required to cater for the "specific safety needs" of individual special needs pupils.
He said the ministry was aware of the concerns raised in Oamaru, but he was confident the issue would be overcome.
"This specific issue with the wheelchair restraints relates to the larger buses, and the restraints for those buses come under a different New Zealand Transport Agency ruling that states 'that only forward facing wheelchairs need to be restrained on a large passenger service vehicle'.
"The buses are fully compliant. However, RTHL are fitting different restraints to the Oamaru bus today.
"In the meantime, the routes are being covered with two vans while the different restraints are being fitted."
He said a similar issue had also been identified in Ashburton.
"That issue was resolved by the company relocating a wheelchair tour coach, from Auckland, to operate the route until the changes can occur on Friday.
"The ministry is satisfied that when these additional requests are being identified that all operators are responding promptly to rectify any problem."
RTHL director Glenn Ritchie said there was nothing illegal about the existing bus. The "super low floor" buses were used across the country. However, he said the company was "looking at" installing additional restraints.
"These are extra ones over and above what we are required to do legally, but you can't do those things overnight."