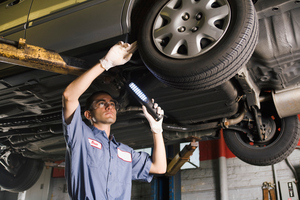 New Zealand motorists are among the most accident-prone and most likely to die on roads, despite having one of the more frequent road-testing regimes in the world, reports show.
Ministry of Transport data show Kiwi motorists drive a car that is on average 13 years old and face road-testing more often than drivers in other countries.
But changes to the local warrant of fitness regime, expected to be in place by July next year, mean cars registered after January 1, 2000, will need annual instead of six-monthly checks, putting New Zealand more in line with overseas rules.
New cars, after their initial inspections, will not require checks for three years, similar to Britain and the Netherlands where checks on motor vehicles are done yearly after a car turns three.
But some have criticised the changes, saying they will lead to more road deaths.
The International Transport Forum's Road Safety Annual Report 2011 shows New Zealanders already have a higher death rate than more than 22 of the 35 countries surveyed including Denmark, Australia, Germany, Japan, the Netherlands and Britain.
For every 100,000 Kiwis, 8.6 are killed on the road, the figures show.
This is lower than the 10.6 killed in the United States but is still nearly three times higher than Britain at 3.1 and nearly double that of Germany at 4.5.
Australia has a rate of 6.1 despite a vastly different testing regime from New Zealand's. In all states except the Northern Territory and New South Wales, cars are checked only upon transfer of ownership or as directed by police.
Another survey in the report also shows New Zealand ranks fifth with 9.4 people killed per billion vehicle kilometres travelled - behind Korea, Malaysia, the Czech Republic and Belgium but well ahead of 18 other countries including the US (6.7), Australia (6.1) and Britain (3.7).
Phil Smith, chairman of independent vehicle repairers group Automotive Solutions, said the figures were indicative of a country with poor public transport, an ageing light vehicle fleet and one of the world's highest rates of car ownership.
He believed the statistics would worsen in the coming years.
"People already don't maintain their vehicles very well at all. I think it will lead to more accidents through simple things [such as] lack of maintenance, lack of tyre pressure, worn tyres ... simply because people aren't used to doing that kind of maintenance themselves."
But AA spokesman Mark Stockdale said government estimates that an annual WoF for all vehicles made after January 1, 2000, could boost deaths by 1.4 a year would be offset by a rise in police enforcement of unsafe and unwarranted vehicles, and increased education to help motorists keep their vehicles safe.
Most cars in New Zealand were tested every 6000km compared with every 19,000km in Britain or 30,000km in Germany.
"Yet when it comes to crash causation, only 2.5 per cent of crashes involved mechanical defects [and 0.4 per cent where it is the sole cause]. That's the same as those countries with lesser frequencies.
"This suggests that not only is there no correlation between test frequency and mechanical safety, but that New Zealand's higher road death rate is attributable to other factors."