Carter takes over as Speaker of the House despite Labour move to install Mallard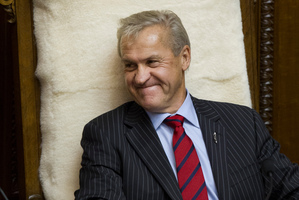 The shadow of Lockwood Smith loomed over the election of his replacement, with MPs hoping the new Speaker could match Dr Smith's fair handling of the House.
Parliament marked a changing of the guard yesterday as Dr Smith vacated the Speaker's chair for MP David Carter.
This was despite the last-minute antics of the Labour Party, who nominated MP Trevor Mallard for the role 45 minutes before the vote was held.
National's Mr Carter made a show of being reluctant to accept the role in Parliament after winning the election by 62 votes to 52.
It is understood he will get a higher list placement at the 2014 general election as a reward for accepting the Speaker position.
Building and Construction Minister Maurice Williamson, who was also tipped for the Speaker role, is believed to be considering retirement from politics in 2014.
National MP Tau Henare, who had received little support in his bid for Speaker, was first to leave the House to place a vote for Mr Carter.
Mr Carter said he would try to fill Dr Smith's shoes.
"[Dr Smith] has held ministers to account and I intend to do the same.
"He is a fine role model, but as I settle into this job my own style will undoubtedly emerge."
Prime Minister John Key said Dr Smith had transformed the House by introducing new standards and expectations.
"What he attempted to do, and was successful in doing, was ensuring that [New Zealanders] could see there was a great deal of importance about what was going on in this chamber."
New Zealand First leader Winston Peters said it would be "churlish" not to acknowledge the departing Speaker and his contribution to the House.
Mr Carter also cited the influence of former Labour Speaker Sir Gerard Wall, saying he was considered Parliament's best Speaker by former MPs.
He recalled Sir Gerard expelling both former Prime Minister David Lange and Opposition leader Jim Bolger on the same day.
"I certainly don't want to be in a position to emulate that record."
Earlier in the day, new ministers were sworn in at Government House.
MP Nick Smith became minister in charge of housing and conservation. He was visibly moved by his reappointment to Cabinet, after being demoted to the back benches last year for his role in an ACC-related scandal.
Two new ministers were created, with Auckland Central MP Nikki Kaye becoming minister for food safety, civil defence and youth affairs, and list MP and former chief whip Michael Woodhouse given responsibility for immigration and veterans' affairs.
The promotions left vacancies in two select committee chair positions.
It is understood that list MP Cam Calder will become chair of the Education and Science committee and Coromandel MP Scott Simpson will become Justice and Electoral committee chair.
Modest politician can play the lead
David Carter is the second Speaker to come from St Bede's College in Christchurch, a Catholic school with a strong record of producing MPs.
Sir Gerard Wall was a Labour Speaker from 1985-87.
Five MPs in the current Parliament went to the school - Mr Carter, Gerry Brownlee, Peter Dunne, Damien O'Connor and Clayton Cosgrove.
Mr Carter, who is 60, is known as a quiet and modest politician but MPs recalled yesterday that he had played the lead role in HMS Pinafore at school.
After high school he studied agriculture at Lincoln University. He later formed New Zealand's first cattle embryo transplant company.
Mr Carter was first elected to Parliament in 1994 as an MP for Selwyn, before winning the Banks-Peninsula seat two years later.
He was made junior whip in 1996 and a minister outside Cabinet in 1998.
In opposition, he was spokesman for finance, housing and tourism.
When National returned to power in 2008, he became a minister of agriculture, biosecurity, and forestry.
Mr Carter farms beef and sheep at his home in Cheviot, where he lives with wife Heather and four children.