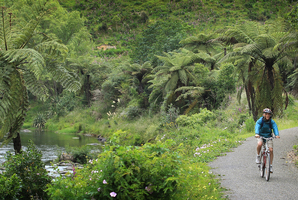 Seven New Zealand regional parks have received a prestigious Green Flag Award.
The awards, which were open to parks from Australia and New Zealand for the first time this year, recognise well-managed, high-quality green spaces and aim to encourage the provision of good quality public parks that are managed in environmentally sustainable ways.
Five Australian parks also received awards.
Auckland Council, which runs the award-winning Ambury and Tapapakanga regional parks, said in a statement it was proud that Aucklanders have access to some of the best parks in Australasia.
"These two regional parks are fine examples of recreation opportunities and conservation programmes complementing each other,'' said the council's acting parks, sports and recreation manager Mace Ward.
Rotorua District Council, which runs the Green Flag-winning Redwoods/Tokorangi Forest, said this showed the region's parks and reserves were among the best in the country.
"I'm really pleased that RDC has achieved international recognition for the fantastic work our team does in managing the Redwoods on behalf of our community,'' Rotorua Mayor Kevin Winters said.
David Clarke, the chief executive of the Parks Forum, the international parks management body which delivers the awards, said the natural environments in Australia and New Zealand had a lot to do with what makes our countries special.
"Our parks provide a window to the natural environment, and in a highly urbanised society this is more important than ever,'' he said.
"We know that healthy, well-managed parks mean healthier communities and the Green Flag Award shows us which parks are setting the standard.''
2013 Green Flag Award New Zealand recipients:
* Ambury Regional Park, Auckland Council
* Tapapakanga Regional Park, Auckland Council
* Hamilton Gardens, Hamilton City Council
* Karangahake Gorge, Department of Conservation
* Parihaka Scenic Reserve, Whangarei District Council
* Timber Trail Pureora-Orangue, Department of Conservation
* Redwoods/Tokorangi, Rotorua District Council
- APNZ