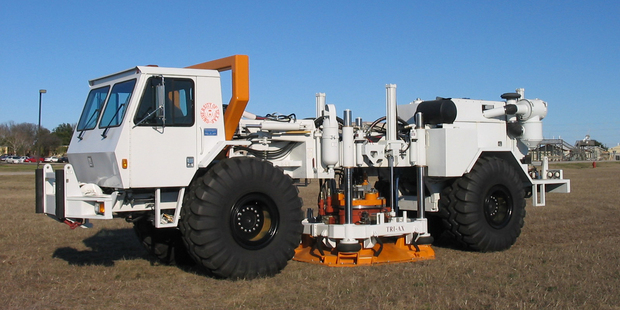 A 30,000kg truck named T-Rex is bound for Christchurch to pound the city's shaky ground.
The US Network for Earthquake Engineering Simulation is sending the truck to help inform engineers of how to rebuild structures in Christchurch to resist future earthquakes.
The truck thumps the ground to simulate earthquakes and seismic sensors are used to detect the properties of rocks and sediments under the surface.
Assistant professor Brady Cox, a geotechnical engineer at the University of Texas at Austin, has just returned from Christchurch, where he used arrays of seismometers to record soil vibrations in order to profile the deep, soft sediments underlying the city.
"Designing a quake-resistant building starts with the soil," Cox said.
"The stiffness and layering of the soil has a profound effect on the strength of shaking felt during an earthquake. The soil stiffness is quantified by a shear wave velocity, the speed at which waves generated by the earthquake travel through the soil.
Soft soils with slow shear wave velocities tend to amplify shaking during an earthquake. Information about the shear wave velocity of the soil is used to inform engineers and government officials about what is needed to design quake-resistant structures in given areas."
T-Rex will leave Galveston, Texas early next month, and will arrive in New Zealand by boat in March, just over two years on from the devastating February 22, 2011 earthquake which claimed 185 lives.
Parts of the CBD still remain cordoned, while some eastern suburbs have been written off.
In a statement, the Network for Earthquake Engineering Simulation described Christchurch as "sitting on a bowl of jelly - sandy, swampy sediment on top of bedrock that traps and compounds the earthquake's vibrations.
The soil liquefies, losing strength and stiffness, causing buildings to sink into the ground and crack apart."
Cox hoped the research being undertaken could help prevent future tragedies in the future.
"Our hope is that our research can not only help Christchurch, Turkey and Haiti, but also the cities along the West Coast of the United States like Los Angeles and Seattle that face similar soil challenges."
- nzherald.co.nz