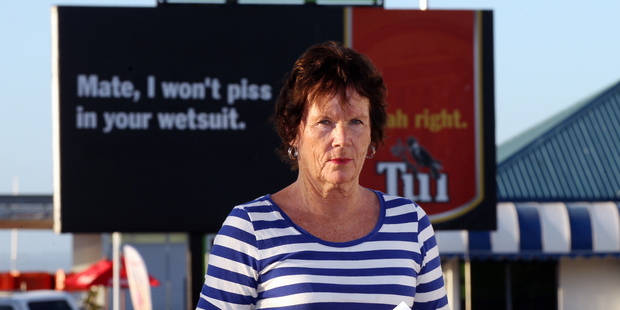 Stories making headlines across New Zealand at noon include a media watchdog dismissing a complaint of swearing on a billboard and a couple who had an eerie premonition before winning lotto.
When Eskdale woman Barbara McKelvie saw a billboard reading "Mate, I won't piss in your wetsuit," she thought "enough is enough."
The Hokitika couple who won $15.7 million in Lotto Powerball apparently had a "strange premonition" they would win.
After Alanna Clare was appointed Northland Rugby Union's referee administrator, some of the lads at a Northland rugby association distributed a photo of her in a bikini that they lifted off Facebook along with some sexist commentary.
There's an epidemic of scooter thefts in Western Bay of Plenty.
For ten years, Steve Johnson's shared driveway on Gordon Rd in Rotorua has turned into a raging torrent after heavy rain.
A teenage driver fled from police at speeds of up to 140km/h, crossing double yellow lines and causing other drivers to take evasive action, and kept driving even after three of his tyres had been shredded by road spikes.
Helicopters are busy spreading lime over Wanganui's stinking wastewater ponds to try to stifle the foul odour wafting across most of the city.
A Dunedin-based trio behind an alleged ''chop shop'' near Mosgiel apparently used social media to taunt the owner of a stolen vehicle they dismantled.
Corey Anthony Breen, 17, of Oamaru is now in jail after he smashed his electronic tracking bracelet off his ankle, stole three bottles of spirits from a local liquor outlet and took off.
Top trending topics on Twitter in NZ at noon were: #tblnz,
#100ThingsThatMakeMeHappy, #nzqt, SPCA, New Zealand, Welly, #FollowMeAndrew and #Pinot2013.
Other stories making headlines this morning:
Rugby matriarch sparked Going legend
Redwood Forest bags international award
Far North mussel farm opponents shocked
Car ferry goes to the rescue of young couple
Kenyan authorities yet to make contact
Third drink-driving conviction for restaurant manager
Photos: Wings over Wairarapa
Unexpected victories in around mountain race
Sold Ritalin to help students with study