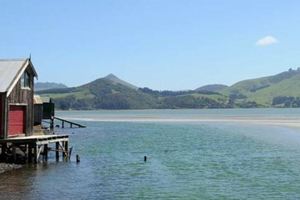 A man who died when a dinghy capsized near Dunedin on Tuesday was a keen fisherman who loved to spin a yarn.
Dunedin police have named him as Robert (Bob) Wilfred Clearwater, 75, of Portobello.
Mr Clearwater and his brother Brian were in an aluminium dinghy in Papanui Inlet when it capsized. Brian managed to cling on to a buoy, but Bob encountered difficulties and could not be revived.
Mr Clearwater's younger brother, Norman, said his family was struggling to come to terms with the loss.
He described his brother as a man who loved people.
"Bob never had a nasty bone in his body - he never had an enemy. He was a people-person.
"He had a wide circle of friends and he loved a good joke. He had a wonderful sense of humour.
"One of his greatest interests was world travel. He travelled extensively to many corners of the globe."
Mr Clearwater said his brother loved fishing, but he did not go out on the open water often.
He said Bob and Brian had been sitting around the night before the tragedy, discussing the beautiful weather forecast for the city this week, and both decided to go fishing for mullet the next day.
"Papanui Inlet is usually quite safe, for the most part, because it's normally shallow.
"They weren't expecting any trouble. They could both swim, but they were not proficient swimmers."
Mr Clearwater said his brother was "relatively fit" but believed he may have suffered a medical incident while in the dinghy, because he stood up in the boat and both the occupants knew not to stand up in a small boat.
The death has been referred to the coroner.
A Dunedin Hospital spokeswoman said Brian remained in Dunedin Hospital and his condition was causing concern yesterday.