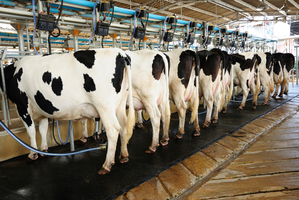 Westland Milk Products has found traces of DCD in some of its goods.
The company commissioned tests through an independent laboratory after the compound was found in some Fonterra products.
The tests revealed minute traces of DCD in samples of Westland products produced before November 1 last year. The evidence indicated products made after that date are free from DCD, the company said.
Westland is conducting further testing in line with customer and government requirements and said it would announce the results as soon as possible.
"While we are assured by independent health authorities and the New Zealand Government that DCD is not a food safety risk we are very aware that for many of our customers any residue in milk products is undesirable,'' said Westland chief executive Rod Quin.
Mr Quin assured customers there was no risk to food safety and human health and said the company would continue to work with the dairy industry, Ministry for Primary Industries and Government to reassure suppliers, customers and stakeholders.
Mr Quin said only a minority of Westland's shareholders had used DCD and most of the application of the product occurred outside peak milk production periods.
DCD is primarily used in food packaging.
Since 2004 it has been used by New Zealand farmers to reduce their environmental footprint by slowing the rate that soil bacteria convert ammonia from animal urine on pasture into nitrates and nitrous oxide; thus reducing nitrate leaching and greenhouse gas emissions.
Where cows have grazed pasture shortly after DCD application, trace quantities have appeared in some milk samples.
New Zealand's fertiliser companies have voluntarily withdrawn DCD products from the market.
- APNZ