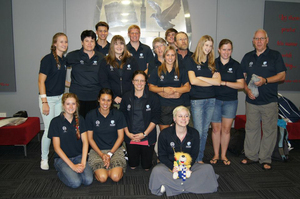 A private investigator may fly to Africa to establish who knew that an 18-year-old was behind the wheel of a minivan that crashed, killing three New Zealanders and a Kenyan man.
An independent inquiry launched by Tauranga's Bethlehem College will investigate who knew the drivers were switched shortly before the crash nearly two weeks ago and why former student David Fellows was allowed to be driving before the van rolled during the school's visit to Kenya for a volunteer project this month.
Kenyan man Christopher Mmata was originally claimed to have been behind the wheel when the van crashed.
The college revealed yesterday that he had swapped places with Mr Fellows shortly before the crash.
Mr Mmata died in the crash, along with former Bethlehem College student Caitlin Dickson, 18, and couple Brian and Grace Johnston.
Bethlehem College's board of trustees chairman Greg Hollister-Jones said today the inquiry would investigate where and when Mr Fellows began driving, what the arrangement was for him to take over from Mr Mmata and who was aware of it.
There has already been conflicting evidence about what happened after the crash, with the school's Kenyan liaison representative Calvine Ominde denying he told Mr Fellows to keep quiet about the driver swap until he had returned home.
Mr Ominde, who works with the volunteer project the school was involved with, said today he felt "blamed'' for a cover-up he knew nothing about.
Mr Hollister-Jones said: "The purpose of the investigation is to get accurate information around the driver swap and what followed after the crash.''
He said it was important for the college "to know the truth''.
However, he said some findings may be kept secret.
The board of trustees would decide what information "can and can't be made public [and] what can be released''.
The terms of reference were still to be finalised and Mr Hollister-Jones said they would consider whether a private investigator would travel to Kenya to interview witnesses.
"You do what you've got to do in the circumstances and for our community it is important that we find the truth,'' he said.
The inquiry should "proceed in a timely way, but it will be weeks rather than months'', he said.
Mr Hollister-Jones would not comment on what information there was about what Mr Ominde had allegedly told Mr Fellows.
Bethlehem College principal Eoin Crosbie said yesterday that Mr Fellows had been told by Mr Ominde to keep quiet about the driver swap until after he had returned to New Zealand.
Mr Ominde, speaking from Kenya today, told TV3`s Firstline that he did not know there had been a driver swap and he did not understand why he was being blamed for a cover-up.
"I hear there's a lot of news saying that I covered up for this. Why should I cover up for this when I'm mourning the death of my friend [Mr Mmata]?'' Mr Ominde said.
Mr Hollister-Jones would not comment on the interview.
"The school has always had a high trust level in Calvine and one of the purposes of the investigation will be what happened after the crash and establishing as best we can what occurred,'' he said.
Mr Crosbie said the inquiry would establish who knew what.
"That's why I think we need to have this investigation and wait for its findings.
"I never said there was a cover up, I said it looked as if that could have been the case.
"As Calvine is able to speak into this and as the inquiry is able to uncover the truth then we will found out [if it is a cover-up]. At this stage that's a possibility, it's not a fact.''
Mr Crosbie said today he wasn't in a position to judge what was fact and there was "a lot of confusion and complexity in this''.
Meanwhile, Foreign Minister Murray McCully has confirmed the Ministry was advised Mr Fellows was behind the wheel of the van, at least 24 hours before the school went public with the information this week.
Mr McCully this afternoon told reporters he'd been "privately'' advised some time immediately before the school's announcement that additional information about who was driving was about to come out.
"A member of the public told me that he understood there was some developments that the Government wasn't aware of and that he thought that we would hear formally from the school and that seemed to be a real prospect and so I told the ministry that I'd received this indication that they should expect to see something from the school in due course.''
A Minister of Foreign Affairs and Trade spokesman told the Herald the ministry was made aware of the driver swap on Monday this week.
Mr Hollister-Jones said the school told Mfat Mr Fellows was the driver on Monday afternoon, about the same time it advised the police.
Mr McCully said it was up to the school to decide when it released the information about Mr Fellows and the Government was not part of any "cover-up''.
He said the school had "taken great care to behave appropriately in quite a difficult situation''.
The Government was waiting to see whether Kenyan authorities would seek the extradition of Mr Fellows under Commonwealth protocols.
"It would be a matter for the New Zealand authorities to consider when they receive a request and I wouldn't want to get ahead of them in that respect.''