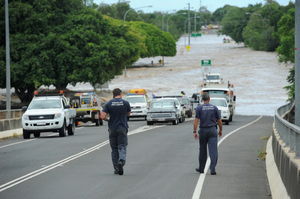 A Northland man who had been working on repairing Queensland roads damaged in the 2010-11 flooding has been stranded as a result of the latest bout of torrential rain to hit the state, which so far has claimed four lives.
Graham Lang, of Dargaville, but now living with wife Raema in Bundaberg, Australia, does not know when the situation will improve so he can travel back home.
He has been stranded since last Wednesday.
Torrential rains have flooded cities and towns in the northeast of Australia, killing four people and prompting about 1000 helicopter evacuations.
Latest updates: Australia's flood disaster
Bundaberg, 385km north of Brisbane, has been the hardest-hit, with rescue crews plucking 1000 people to safety after the river that runs through the town broke its banks.
About 1500 residents fled to evacuation centres.
The Langs moved first to the Sunshine Coast last September, before shifting to Bundaberg.
They visited Whangarei for Christmas, and while Mr Lang returned across the ditch to work, his wife stayed back to sort out a few issues.
Raema Lang confirmed that although her husband was stranded, he was safe.
Mr Lang's brother, Trevor, was living in central Bundaberg and was worse affected.
With Bundaberg's roads flooded, all transportation has been cut off to and from the town.
"My husband's working about an hour-and-a-half north of Bundaberg but he stopped working last Wednesday because of the floods and then it [the situation] got worse. He's repairing roads that were damaged in floods two years ago and with the recent rain, they're back to square one,'' she said.
Most districts in Bundaberg received 550mm of rain in two days, while in one area of Childers, a whopping 514mm fell in 24 hours.
The flooding was caused by the remnants of a tropical cyclone called Oswald that also caused severe weather, including tornadoes, and created sea foam that came ashore on the Queensland coast.
Floodwaters in late 2010 and early 2011 left much of Queensland under water in the worst flooding Australia had seen in decades.
Read more:
Kiwi family's boat swept down river
Clean up begins in flood-stricken Queensland
For more articles from this region, go to Northern Advocate