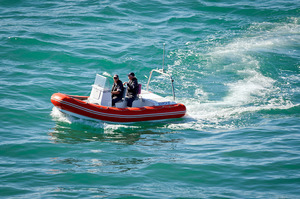 Two boaties have spoken about the moment they came across a family who survived a capsizing that left a father missing off the Bay of Plenty coast.
Katikati resident Tim Mair, 52, is believed to have been swept away when a rogue wave swamped the boat he was in with two children, a grandson, and a family friend at Bowentown Heads.
Mr Mair was fishing with his 15-year-old son and 23-year-old daughter, 7-year-old grandson and a 14-year-old friend when the tragedy occurred.
The four survivors, the youngest of whom was wearing a lifejacket, swam to nearby Matakana Island but Mr Mair has not been seen since.
Waihi fisherman Warren Coffey and friend Peter Besley, who were heading out of Anzac Bay to go fishing on Monday night, came across the overturned boat then saw the four waving for help from the island.
"They were cold and a bit shaken. They were pretty quiet," Mr Coffey said. "We just asked them what's happened and how many were on board? Is there anyone else missing and they said 'yep, our dad's missing'."
Mr Coffey and Mr Besley picked up the group and took them ashore. They also alerted the coastguard and a relative of the group who met them at Anzac Bay. Some of the children recognised Mr Besley, who teaches at Katikati College.
The sea was moderate to rough when the boat capsized, said Waihi Beach Coast Guard duty officer Brian Grimwood. "It wasn't very rough outside the bar but inside it gets quite dangerous ... depending on the direction of the swell."
Search and rescue parties including a police Eagle helicopter, Surf Lifesaving IRBS and coastguard vessels scoured the area until midnight Monday and again yesterday.
Mr Mair was described by police Sergeant Warren Shaw as a very experienced boatie. There were additional lifejackets on the boat and the situation would have been very different if they had all been used, he said.
- APNZ